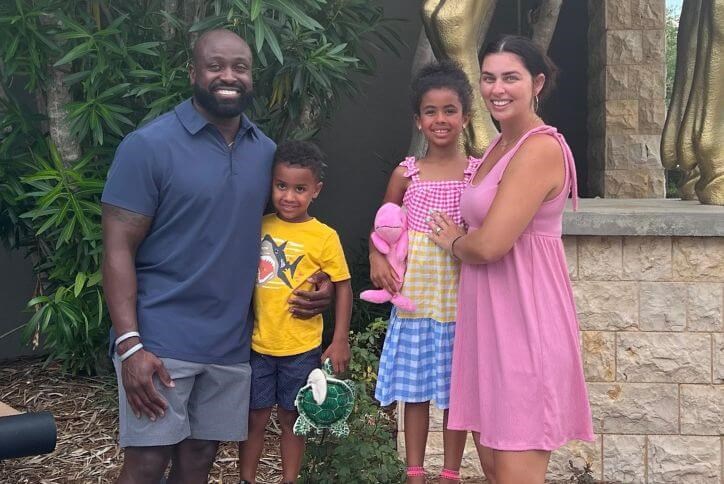 The Holder family feels immediately at home at Canyon Falls
Life couldn't be better for the Holder family, who have only lived in Canyon Falls for a few months but are already launching new adventures and forging deep ties to the community.
Wife and mom Brittany has a new job as field marketing manager with Wild Fork Foods, which has a new Flower Mound store along with several other Metroplex locations.
Husband and dad Julius plans to open his new business, Blownaway Salon Suites, this spring in Southlake.
Kids Mia, 7, and J.J., 5, are thriving at Argyle South Elementary School, which opened in Canyon Falls last year, combining the newest technology with an old-fashioned emphasis on academic achievement.
The Holder family was living in North Richland Hills when they began to feel the yearning for a different lifestyle.
"We wanted to live in a community where you can really know your neighbors, where you set up some chairs outside and watch the kids play," says Brittany. "We fell in love with Canyon Falls on our first visit, and it's everything we hoped for. We feel super safe here, and our kids already have new best friends next door."
The Holders built a new home by Belclaire Homes, which has new estate homesites this spring in Canyon Falls.
"We absolutely love and new home and neighborhood. We can walk to school with the kids every day," says Brittany.
Though they've only lived in Canyon Falls for about four months, the family has gotten a lot of enjoyment from the more than 400 acres of parks, trails and natural open space in the community.
"We love to get on our bikes and explore the nature trails – they're amazing," she says. "We can't wait for summer so we can enjoy the pools."
The Holders have also joined in social activities in Canyon Falls, and Brittany helped make the February Dinner & Date Night event at the Canyon Falls Club a huge hit with residents.
She worked with Canyon Falls Lifestyle Director Melissa Rodriguez to create a three-course menu showcasing foods from Wild Fork, including Atlantic salmon, lamb chops and ribeye steak. Chef Leon Rivera demonstrated how to deliciously prepare the meats, along with scrumptious sides and wine pairings.
For Brittany, the dinner was a great way to introduce neighbors to her new position with Wild Fork Foods, which offers more than 500 products in its stores and more than 700 items online. All meats are domestically sourced, with a few exceptions such as wagyu beef from Japan and exotic meats from Australia.
Before joining Wild Fork last fall, Brittany worked in marketing for Texas-based jeweler Kendra Scott for more than seven years. At that company, she developed an expertise in partnering with local nonprofit organizations to give back to the community, and that's a focus she is bringing to her new job at Wild Fork.
Wild Fork's new Flower Mound store is located at 5850 Long Prairie Road, at Dixon Lane, catercorner from Target.
Read more Resident Stories from Canyon Falls.