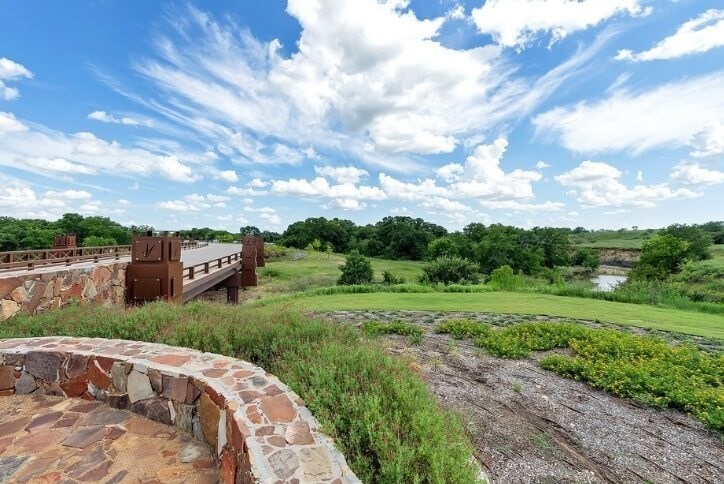 6 reasons now's a great time to buy a new home in Canyon Falls
From low interest rates to affordable new choices, 2019 is shaping up to be a great year to buy a new home. Here are 6 reasons to discover why Canyon Falls has your dream home, whether it's an affordable new plan priced from the high $200,000s, or the ultimate dream home on an estate-sized homesite.
1. Interest rates remain low
Mortgage interest rates may vary slightly from day to day, but the general trend is downward. In early April, rates were holding near a 14-month low. The national average for 30-year mortgage rates was just slightly above 4% at the beginning of April. Low interest rates translate to lower monthly payments and the ability to qualify for a larger home.
If interest rates go up, that can make a significant difference on your monthly payment, which is comprised of PITI – principal, interest, taxes and insurance. Principal, the largest ingredient, is the actual amount borrowed. Interest is the interest rate per the contract. Your lender will also escrow, or collect, prorated sums for property taxes and insurance each month. If your home has private mortgage insurance, required by most lenders when the down payment is less than 20 percent, that will be part of the monthly payment as well.
A leading homebuilder recently provided an example of the difference in the monthly payment for a new home with a sales price of $789,990 and 20 percent down. (Of course, Canyon Falls offers new homes in a broad selection of price ranges, from the high $200,000s to the $800,000s.)
At an interest rate of 4.25%, a rate that's widely available in the current market, the monthly P&I (principal and interest) payment would be $3,109.01.
But if the rate increased by just about 1.25%, to 5.555%, then the monthly P&I payment would increase by nearly $500, to $3,588.37.
Of course, that difference is a significant sum over the course of only one month. Over a year, that difference in the monthly payment – just because of a 1.5% rate increase – would amount to $5,752.32. Over the life of a 30-year mortgage, the difference would add up to a whopping $172,569,60 extra paid for just additional interest alone.
2. Affordability is good
Homebuyers are enjoying the best affordability since the first quarter of 2018, according to the latest Burns Affordability Index from John Burns Real Estate Consulting. Burns credits a trifecta of lower mortgage rates, stable home prices and growing incomes for today's excellent affordability.
Dallas ranks No. 1 in the nation for Millennial homebuyers, according to the recent Millennial Desirability Index from Meyers Research.
Surveying members of this generation born between 1980 and 2000, Meyers found that 60 percent of them have seriously considered moving to a new city in search of better economic, housing and lifestyle opportunities. Meyers then ranked U.S. cities for their likely desirability for Millennials, based on job growth, cost of living, wage potential, quality of life, fun index and availability of affordable housing.
Dallas came out No. 1 in the index, thanks to its attractive combination of quality of life, cost of living and employment outlook. With a score of 158, Dallas outranked the No. 10 city, Nashville, by more than 50 points.
3. DFW is a strong market
Dallas is one of the strongest and healthiest real estate markets in the nation, according to a recent report from the Dallas Morning News.
Adding new homes is key to a city's economic health, says Robert Dietz, chief economist for the National Association of Home Builders.
That's good news for Dallas, which ranks No. 1 on Realtor.com's list of Cities Building the Most New Homes in 2019.
To come up with its rankings, Realtor.com analyzed census data to find out the number of residential construction permits issued in each metro area in 2018, with the thinking that it would be the best indication of where new housing would be completed an average of seven months later.
With 63,421 permits issued last year, and a healthy 2.8% one-year change in permits, Dallas ranks No. 1 in the survey.
"Big companies, like Toyota, are relocating or expanding into the Big D at a breakneck pace, ushering in a torrent of new residents. That's kept builders busy," Realtor.com writes.
The report also noted that builders are emphasizing affordable in newly constructed homes. Homes priced from $250,000 to $350,000 are "the name of the game right now," said Ted Wilson, principal of Residential Strategies, a Dallas-based market research firm.
As if we needed any more proof, Zillow rates DFW as one of the nation's 10 hottest real estate markets for 2019. At No. 7, the Metroplex is the only metro area in Texas to make the list.
Zillow crunched several sets of data to come up with a "hotness" score for the nation's 50 largest metro areas. Metrics included projected median home value, projected rental growth, recent income and population growth, employment rates and the health of the job market.
4. Our quality of life is high
At the same time that the Metroplex is growing fast, the region is also maintaining – indeed, enhancing – the quality of life that appeals to so many homebuyers in so many different stages of life.
Flower Mound – one of three great cities that Canyon Falls is proud to call home – keeps earning state and national kudos.
Flower Mound ranks as the No. 1 Safest City in Texas in a new report from SafeHome, a research organization. They calculated the rankings based on the latest FBI crime data, Census data, the office-to-population ratio, and other factors. In addition to being No. 1 in Texas, Flower Mound also ranks in the top 10 nationally among cities with populations of at least 50,000.
Flower Mound is the No. 1 Best City for Families in Texas, according to an index from Apartment List, which analyzed four factors of particular importance to families, including safety, housing affordability, education quality and child friendliness.
With an overall score of 92.785 and an overall grade of A+, Flower Mound ranks No. 1 in Texas and No. 4 nationally on the list. Among the individual categories, Flower Mound had some of the highest scores in the nation for high school graduation rate (97.4), safety (97.3) and affordability (87.5).
5. Canyon Falls offers new choices from the high $200,000s
Canyon Falls has never offered a greater variety of new-home choices, including new plans priced from the $270,000s by K. Hovnanian Homes. These new plans offer unexpected features and options for such an affordable price range, including covered patios, multigenerational living suites and three-car garages. Canyon Falls offers new homes in every price range up to the $800,000s.
6. Quick move-in homes are plentiful
There's a misconception that buying a new home means waiting for many months before you can move in. Not at Canyon Falls. Our best-in-class homebuilders offer a wide variety of new homes available for quick move-in, from totally completed homes, to homes in progress where you can still make designer selections.
Enjoy virtual tours and photo galleries of our beautifully decorated model homes. When you visit Canyon Falls, be sure to stop by our Welcome Center at the Canyon Falls Club. You can tour our flagship amenity, part of 250+ acres of parks, trails and natural open spaces, and enjoy a coffee and a freshly baked treat from Flower Mound's Swirl Bakery.
The Canyon Falls Club offers indoor and outdoor gathering areas for special events and everyday fun. The pool and splash pad are popular in warm weather, and the indoor fitness center is a great place to get in shape all year long.
Our amenities also include the Hay Barn and Pooch Park, a restored historic barn that's now a go-to place for picnics, special events, live music concerts, and of course – dogs. Canyon Falls has miles of trails to explore, and natural open space along Graham Branch Creek is a beautiful place to enjoy one of our signature sunsets.
Our residents enjoy special events throughout the year, including big community-wide festivals such as Spring It On! and our annual Festival of Colors.
Weekly fitness classes help residents keep fit and make new friends. They include Camp Gladiator, Stability Ball, Zumba and Strides 360.
Canyon Falls is proud to be part of two highly regarded public school districts, including the Argyle Independent School District and the Northwest Independent School District. Canyon Falls is also close to several highly rated private schools, including Liberty Christian School.