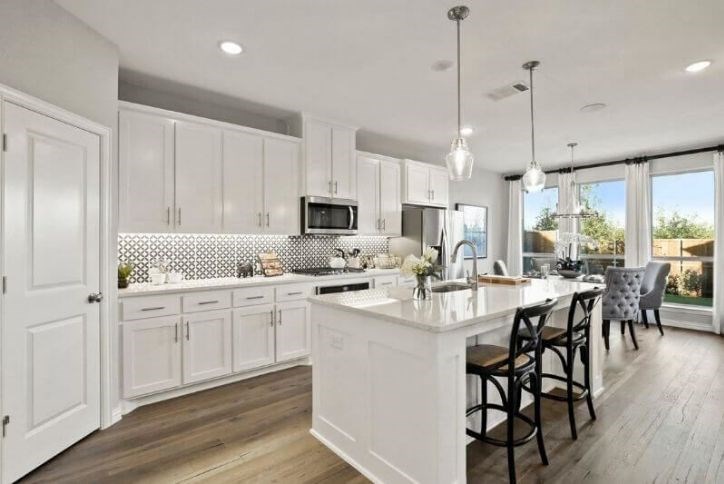 Why buy new: 7 advantages of new homes vs. resale homes
Here's a major question to answer once you've decided to buy a home, "Should I buy a new home, or a resale one?"
To help you decide, we've detailed what we think are the seven major benefits of buying a new home. We've also looked at four potential advantages of existing homes, as described in an article from Zillow, and given our take on them.
BENEFITS OF NEW CONSTRUCTION
Timing
It's true that "existing" is a main advantage of existing homes. In other words, you don't have to wait for them to be finished or even started. That might be important for many time-pressed buyers, especially if they are relocating and on a tight timeframe. On the other hand, large master-planned communities like Canyon Falls work closely with homebuilders to make sure that there is a plentiful supply of homesites ready for new-home construction throughout the year. As a result, homebuyers can often find a wide variety of new homes that are complete or in advanced stages of construction, and their websites make it easy for search quick move-in homes. In the best-case scenario, buyers can find a new home that's almost completed, but still have the opportunity to make their own personal selections for flooring, lighting, countertops and other finishes. Even when building a new home from the ground up, which can take anywhere from three to five months, buyers can often find short-term housing near their new home.
Floor plan
With the increased interest in open-concept floor plans and indoor/outdoor living, today's new homes are vastly different from those built even just a few years ago. Family rooms, kitchens and informal dining areas flow into each other to create one large gathering space, with abundant natural light from walls of windows overlooking outdoor living areas. Huge table islands not only provide extra seating and serving space in kitchens; they also offer plenty of storage space to keep the area looking great. New features such as pocket offices and family foyers add even more style and function to open floor plans. Today's new floor plans deemphasize closed-off rooms, such as formal living and dining rooms, which have fallen out of favor with the way families live today. With so floor plans available, buyers can choose and customize a new home to be just the way they want it.
Personalization
The fully-furnished model homes at Canyon Falls show countless ways that buyers can personalize their new homes, in everything from flooring and countertops, to lighting and plumbing fixtures. Many of the finishes displayed in model homes are upgrades, but many others – including hardwood flooring and solid-surface countertops – are included at no extra cost. Whether you like natural neutrals or bolder colors, you can personalize your new home with hundreds of builder choices in everything from carpet to brick. Of course, builders have already finalized selections for completed homes, but it's often possible to find a home that's still at a stage of construction where you can add your personal touch.
Efficiency
Today's new homes are much greener, offering standard features such as double-paned low-emission windows, sprayed-on foam insulation in the attic and other critical areas, and the latest energy-efficient air conditioning and heating systems and appliances. Many new homes even offer guaranteed annual heating and cooling costs through the industry-leading Environments for Living program. Add in smart thermostats that can save energy while you're away, and today's new homes are much greener and energy-efficient than those built just a few years ago.
Smart technology
Homebuilders today are including many smart features in their homes that would be difficult and very costly to retrofit into existing homes, especially when it comes to infrastructure systems such as structured wiring. Today's connected new homes offer "whole house" Wi-Fi coverage with no dead spots, no matter how big the floor plan or how secluded the room. You can control lighting, thermostats, garage doors and other systems with the touch of a button at home, or from anywhere with your connected device. Features such as cameras, video doorbells and remote locks enhance safety and convenience. Smart appliances, weather-sensing sprinkler systems, and programmable thermostats help make your new home greener, and less expensive to live in.
Maintenance
When buying a resale home, just maintaining or updating cosmetic items such as flooring and paint can cost easily cost thousands of dollars, not to mention the inconvenience of living through a major remodeling. Major unexpected expenses such as a new roof or foundation repair can easily cost $20,000 or more. Sure, you have the chance to inspect a resale home and discover any existing maintenance issues, but that doesn't offer any protection from future unpleasant surprises. With a new home, most builders include structural mechanical and functional warranties. The length of the warranty depends on the builder, but a 10-year structural warranty, a two-year mechanical warranty and a one-year functional warranty is a good industry rule of thumb. And new homes are built using the latest materials and advances in building science, for many years of peace of mind.
Community Amenities
Buying new construction often means buying a lifestyle, so you get an entire community to go along with your new home. At Canyon Falls, all residents enjoy amenities like the Canyon Falls Club, the Hay Barn and Pooch Park, and miles of trails. Our young residents get one of the best educations available anywhere in our two highly regarded school districts, Argyle ISD and Northwest ISD. Fun resident events throughout the year are another big part of living at Canyon Falls.
THE FLIP SIDE FOR EXISTING HOMES
Here are the four advantages of existing homes as described by Zillow, with our response to each.
Location
New construction typically grows up in exurbia where land is plentiful but commutes can be longer.
Our take: Canyon Falls' location offers so much, we couldn't fit it into just one city. We're part of three great cities: Flower Mound, Argyle and Northlake, offering our residents convenience to major employers and an unparalleled number of options for shopping, dining and entertainment. And it bears repeating: for homebuyers with kids, our schools are top-notch.
Landscaping
Existing construction is often surrounded by mature trees that shade the home in summer, protect against wind in winter, and block out traffic noises at bedtime. Mature trees may be salvaged at new building sites but often the landscaping takes years to grow into itself.
Our take: Take a drive around Canyon Falls and see how our community is filled with mature trees that we work hard to preserve, along with wildflowers and gently rolling terrain that's unique to this area. Our master plan devotes more than 250 acres to parks, trails and natural open space, and Graham Branch Creek is a wonderful place to watch the sunset.
Floor plan
Builders, especially in planned communities, tend to stick with exterior design styles and finishes that appeal to the broadest range of customers. You'll have to count on post-purchase painting and decorating to stand out from your neighbors.
Our take: Builders at Canyon Falls offer a wide variety of architectural styles, from modern to traditional, along streets that gently wind through groves of trees, past parks and greenbelts. You'll also see many different exterior finishes among our new homes, from painted brick to harmonious blends of stucco and stone. Our terrain is slightly hilly and many homesites have steps leading up to the sidewalk, adding even more appealing variety and detail.
Waiting
If you're looking at new homes that are already built, this isn't a factor. But if you're building a home, it could take several months longer than moving into an existing home. You can expect a home to take five to six months, but that varies by market and builder.
Our take: In the Metroplex, it typically takes about four months to build a new home from scratch. Another advantage of looking for a new home in a major master-planned community like Canyon Falls is that you can find many homes that are already well underway, but still offer the chance to make your own selections for flooring, cabinets, lighting and other finishes. In some cases, you still might be able to customize the floor plan, such as turning a dining room into a study with French doors, or adding a downstairs guest bedroom suite.
Ready to find the new home of your dreams? Use our Homefinder to see quick move-in homes priced from the high $200,000s to $800,000s, and start enjoying our active, neighborly lifestyle right away.