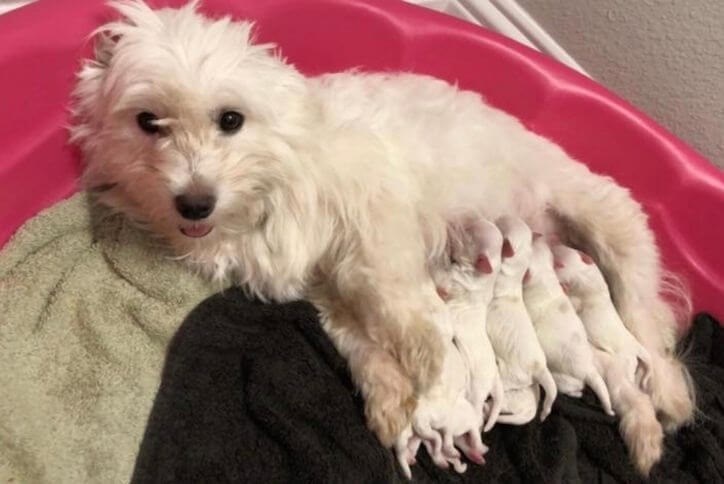 A lost dog story with a happy ending – and 8 puppies
This is a lost dog story with a happy ending. And eight new puppies.
It started earlier this spring when several residents of Canyon Falls noticed a loose dog wandering throughout the community. The dog was small, white, and fast. So fast, in fact, that she quickly earned the nickname of White Lightning among the many residents trying to catch her.
The chase for White Lightning went on for two weeks, with many residents pitching in and pursuing her through streets, trails and open fields. The residents kept in touch on the community Facebook page, reporting White Lightning sightings and rushing to the latest scene. 
White Lightning evaded capture until resident Lucy Flynn and her husband, Colin, received several alerts from her security camera, letting them know that the dog had come into their yard several times during early morning hours.
Figuring that White Lightning would return again, they left their garage door slightly open overnight, with a bowl of food just inside. The idea worked, and White Lighting came just inside the garage to eat the food. After several nights of gaining her trust, and moving the bowl further inside the garage, they closed the door and let her stay inside overnight.
The next morning, they finally met White Lighting face-to-face. The little dog was very sweet, but also scared and skittish. A trip to the family vet revealed White Lightning to be a Maltese who was about two years old, weighing about 16 pounds. She was in generally good health, although her fur was heavily matted.
White Lightning did not have a microchip, and Lucy and other residents worked hard to find her family, posting signs and contacting area shelters, websites and online groups.
With no luck, the residents started making arrangements to turn White Lightning over to a local adoption service. At the last minute, Lucy decided to keep her, and christened her with a new name, Chloe.
Not long after, Lucy was petting Chloe when she thought she felt something moving inside her stomach. Another trip to vet confirmed that Chloe was already pregnant when they found her.
Two days after that vet visit, Chloe gave birth to eight healthy puppies. All survived and are thriving.
Chloe and two of her puppies will become permanent members of Lucy's family, joining their six-year-old Maltipoo, Cosmo, who has been very welcoming. The other puppies will go to new loving homes once they reach about six to eight weeks. Several Canyon Falls residents have already asked to adopt puppies, along with several members of Lucy's family.
Lucy said that finding Chloe and welcoming her puppies into the world has been a great adventure for her family, which includes three boys.
"They have brought such joy to us, and the boys absolutely love them. When the puppies are all balled up and sleeping together, it looks like a page from the cutest calendar ever," she says. "Chloe has really come out of her shell and has become an amazing mom."
Lucy emphasizes that rescuing Chloe was an overall community effort that involved many neighbors who devoted lots of time and energy.
"I want to give a special shout out to Ernistine Hurtado and Vicky McCalmon. Ernistine went to the vet visits with me and helped with the expenses, and Vicky came over to help when the puppies were being born. There are also so many others. Many friends and neighbors spent a lot of hours and got lots of shoes dirty trying to catch Chloe," she said. "The whole community pitched in to do a good deed. That's one of the things we've loved most since my husband, Colin, and I moved her about a year ago. Whether it's for a good cause or just to have fun, Canyon Falls residents really come together."
When Chloe's puppies grow up, they'll join other Canyon Falls dogs in enjoying more than 200 acres of parks, trails and natural open space in the community, including the popular Pooch Park.