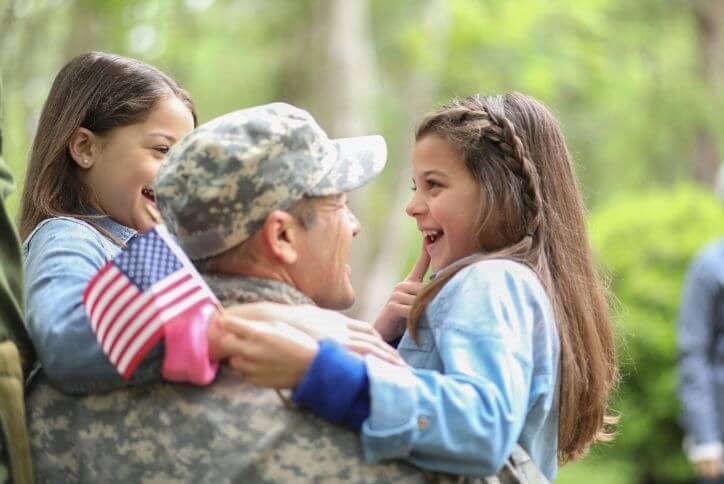 Honor vets & have fun with these Veterans Day events near Canyon Falls
At Canyon Falls, we love veterans, first responders, and all of the selfless heroes who serve their country and communities.
With Veterans Day coming up on Monday, November 11, here are some local opportunities to show your support for those who have pledged to protect and defend our country, while having fun at the same time.
Roanoke
The charming town of Roanoke near Canyon Falls is getting a head start on Veterans Day celebrations, with a parade on Saturday, November 9 along its historic N. Oak Street. 
Roanoke Memorial VFW Post 5074 is sponsoring the parade, with pre-parade festivities beginning at 9 a.m.
The parade itself starts at 10 a.m., with a route down N. Oak Street, from City Hall to Byron Nelson Boulevard.
Everyone is also invited to the post-parade party at the VFW Post at the end of the parade route. Starting at 11 a.m., there'll be live outdoor entertainment, BBQ, burgers and hot dogs. All proceeds from the sale of food and drinks will go toward creating a war memorial for Roanoke.
Grapevine
Also on Saturday, November 9, Grapevine will hold its annual Veterans Day Parade along historic Main Street.
The parade begins at 10 a.m. at the corner of Main Street and W. Hudgins Street.
A Veterans Fair takes place from 10 a.m. to 2 p.m. on the end of the parade route, on Jenkins Street, with live music and complimentary food. The public will also be able to meet representatives of organizations that are dedicated to helping veterans in need.
Flower Mound
On Sunday, November 10, the day before Veterans Day, Flower Mound honors local veterans in a special Veterans Day ceremony and family picnic at Flower Mound High School's football stadium. A picnic from 1-2 p.m. includes free hot dogs, cake, and lemonade. Beginning at 2 p.m., the ceremony is highlighted by a Veterans Review, where approximately 200 local Boy Scouts, Girls Scouts and ROTC units parade before the veterans in uniform.
On Veterans Day, November 11, Flower Mound residents are invited to cheer on the participants in the Flower Mound Veterans Day Relay. Throughout the day, participants commemorate our nation's veterans and their service by carrying the American flag on a pre-determined route around town. The route takes runners by each Lewisville ISD school in Flower Mound, to provide an opportunity for students to encourage the runners. The Relay Run ends with a post-event celebration at the Community Activity Center, and the public is welcome to join in the festivities.
Learn more about these events and get information on other veterans programs from Flower Mound.