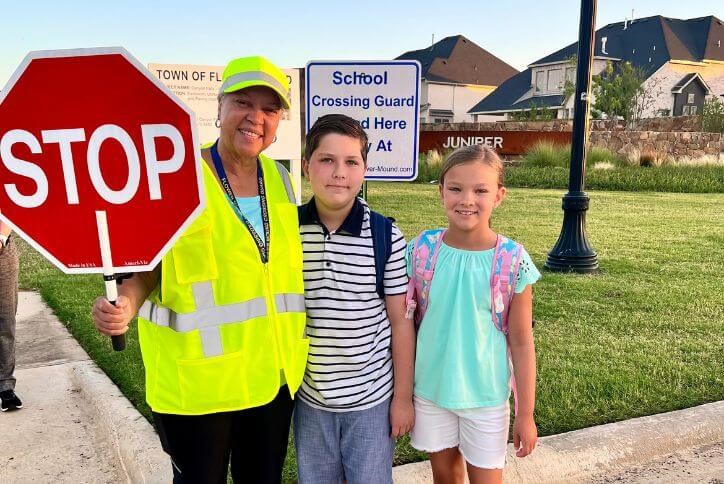 School crossing guard job gives Canyon Falls resident Linda Williams the "warm fuzzies"
A mother of 7 and grandmother of 11, Canyon Falls resident Linda Williams loves kids, so it's no surprise she's relishing her new job as a crossing guard at Argyle South Elementary School, which opened in Canyon Falls in August.
"Serving and giving back is my passion, and this job fills me with warm fuzzies," says Linda, who has already made countless new friends among the kids, parents and motorists she encounters each weekday morning and afternoon.
"Once or twice I've questioned why I'm choosing to wake up at 5 every morning, but it's such a great feeling to have all the kids and parents smiling and calling me Miss Linda," she says. "There's one little boy I call 'Sunshine,' and that big smile on his face keeps me coming back every day."
Linda is shown here with Claire and Patrick, the children of Canyon Falls residents Christine and Brian Taylor.
This may not be the most challenging job for Linda, who previously retired from long careers at JCPenney and American Airlines, but it's one of the most rewarding to the soul as well as the tastebuds.
One recent day, kids brought her Pop-Tarts for breakfast. That same afternoon, a parent gifted a bag of chocolates with a sweet note. Almost daily, parents and kids offer her water, coffee and other goodies.
Safeguarding the students of Argyle South Elementary has become a family affair for the Williamses.
Linda recruited her grandson Miles, who lives with her, to join her as a crossing guard. He works at the same intersection, at Prairie Ridge Road and Denton Creek Drive, and they walk the two blocks to work together twice a day.
Linda explains that this job is very meaningful for Miles, 26, because he has autism spectrum disorder and other challenges that make it difficult for him to get out of the house.
"I talked the idea over with Miles, and he agreed to give it a try. He's having a lot of fun and it's a comfort for him to be with his grandmother," she says. "We have a great time, and sometimes we go out to breakfast after the morning shift."
In addition to her school crossing guard work, Linda also volunteers with Big Brothers Big Sisters of Denton County, Court Appointed Special Advocates of Denton County, and her church.
The Williams family is fairly new to Canyon Falls, moving into their newly built home in the Juniper neighborhood in May 2020, in the early months of the COVID-19 pandemic.
They were downsizing, moving into their new 2,700-square-foot home in Canyon Falls from a 6,000-square-foot residence in Southlake. For about 18 months, five more grandchildren lived with them during the pandemic, but now the household is just Linda, husband Chuck, their daughter Teresa and Miles.
"We've grown to love Canyon Falls," Linda says. "Everyone here is so super friendly, it feels like the community is our extended family