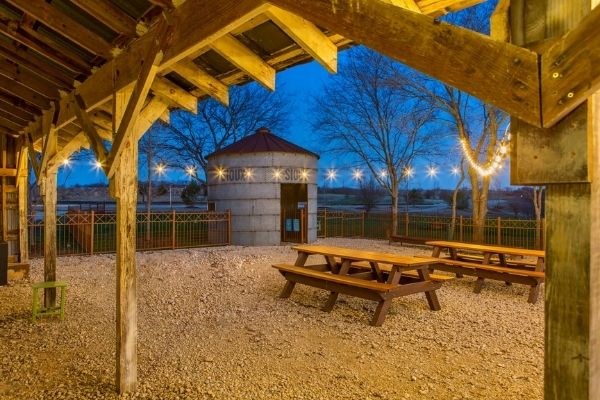 Discover 7 hidden gems of Canyon Falls
Canyon Falls devotes more than 350 acres to parks, trails, recreational amenities and natural open space, providing a sociable and nature-focused lifestyle along with our new homes in Argyle, Northlake and Flower Mound.
Major amenities like the Canyon Falls Club and Westbridge Park, which are home to our two swimming pools and much more, are hard to miss. Canyon Falls is also brimming with some "hidden gems" just waiting to be discovered, along with background stories that are quite interesting.
To make sure you don't miss any opportunity to enjoy everything Canyon Falls has to offer, here's a guide to a few of our favorites.
Champion tree
Did you know that Canyon Falls is home to a champion tree?  A majestic native Post Oak tree, estimated to be between 120 and 150 years old, was honored as the Town of Flower Mound's Tree of the Year for 2018. An impressive 40-inch diameter trunk makes it easy to spot this champion tree, located on a homesite in the 6700 block of Elderberry Way. You might notice a subtle curve in the street, which was realigned to help protect this tree, whose slow growth rate makes it even more significant. And kudos to Highland Homes, who built the home on this homesite, for their care and conscientiousness during the construction process.
Graham Branch Creek
One of the largest natural areas in Canyon Falls, the Graham Branch Creek natural corridor preserves approximately 200 acres. Meandering through Canyon Falls like a green ribbon, the creek feeds into Denton Creek, a tributary of 8,000-acre Lake Grapevine nearby.  The Canyon Falls Club offers an easy place to access the creek and the miles of natural-surface trails that traverse it. It's also one of the best spots to enjoy a beautiful sunset at Canyon Falls.
Hay Barn
Have you ever noticed a rambling old barn with a weathered metal roof in Canyon Falls? That's the Hay Barn, a sociable amenity that's been home to live music concerts and other events throughout the years. Our developer wanted to preserve this unique piece of the land's history by restoring it, adding lighting, seating, a generous porch overhang and later moving a silo found on the property to this location to serve as the gateway to the Pooch Park. Once a place of hard work, today the Hay Barn is all about relaxing and getting to know the neighbors.
Pooch Park
The old silo located next to the Hay Barn is the gateway to the Pooch Park, which has fenced play areas for large and small breeds, with mature trees for shade and smooth boulders for people to sit on while their dogs romp and play. The Pooch Park has been a focal point for several of our most popular annual events, and so many puppy play dates!
Signature stone
You can see beautiful rustic stone walls throughout Canyon Falls, from the neighborhood entrances to the walls that border homesites along our major thoroughfares. Did you know that this stone is a special proprietary blend, created exclusively for Canyon Falls? It's called Canyon Moss, and it's a version of hardened sandstone from South Texas and Central Oklahoma. As a finishing touch, these stone walls are specially treated to encourage the growth of lichen moss, adding another touch of nature to our beautiful community.
Natural-surface trails
It's easy to spot the wide concrete trails that traverse Canyon Falls – just look for all the residents out enjoying them with on foot and with their strollers, dogs and bikes. It takes a little more effort to find the miles of natural-surface trails in Canyon Falls, mainly because they're narrower and crisscross wooded areas off the beaten path. But the effort is well worth it, especially if you enjoy mountain biking, cross country running, or just being close to nature. In all, Canyon Falls has over 14 miles of hard- and natural-surface trails for our residents to enjoy, with nature-focused events such as Scavenger Hunts adding extra fun along the way.
Town of Flower Mound's Canyon Falls Park
Canyon Falls Park, now under development by the Town of Flower Mound, is located off Stonecrest Road adjacent to Canyon Falls. This 10.8-acre park will offer winding trails, a basketball court surrounded by trees, a splash pad and two playgrounds. The wooded park site has mature Post Oak trees and dramatic topography with more than 60 feet of elevation change. A trail loop will lead up to the highest point, offering scenic views of the surrounding area. Canyon Falls Park is scheduled to open in 2022.
Learn more about the Canyon Falls lifestyle and explore our new homes.