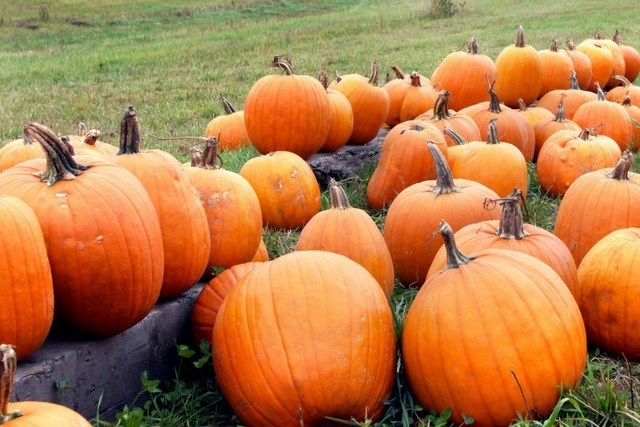 Enjoy Oktoberfest and more fall events near Canyon Falls
With cooler weather and changing foliage, fall is a season of festivals here in North Texas. Here are our top picks for fall events in Flower Mound, Roanoke and other neighboring cities through early November. 
Many of these events have free admission, with food, beverages and merchandise available for purchase. Pre-registration is recommended for some. We've included a link for each event so you can get complete details.
Southlake's Art in the Square
On Sept. 24-26, Southlake's Art in the Square showcases visual arts along with two stages of live entertainment from professional musicians and local school bands and dance studios. Food and drinks will be available for purchase from a wide variety of vendors. This event will offer a special opportunity to discover or revisit Southlake Town Square, a unique, open-air lifestyle shopping district with more than 120 shops and dozens of fine restaurants located near Canyon Falls.
Raptor Photo Day
On Oct. 9, Raptor Photo Day at the Blackland Prairie Raptor Center offers a rare opportunity to take photos with their education ambassador birds in a natural park setting with different backgrounds and lighting environments. Open to all ages and all photography skill levels, this event will include raptors such as the Red-Shouldered Hawk, Screech Owl and American Kestrel. The Blackland Prairie Raptor Center is one of our Explorer Series partners at Canyon Falls, and we recommend their Annual Gala on Nov. 4 as a fun and worthy fundraiser.
Celebrate Roanoke
On Oct. 9, Celebrate Roanoke turns the clock back to the Roanoke of yesteryear, with hilarious games and activities, scrumptious foods and a multitude of unique vendors. Highlights include armadillo races, an old-fashioned photo booth, wagon and train rides, cow patty bingo and sack races. There'll also be live performances by musicians and community groups
Oktoberfest in Southlake
A weekend of Old Germany comes to North Texas on Oct. 15-17 with Southlake's Oktoberfest celebration. Now in its 20th year, this event in Southlake's beautiful Town Square will feature traditional German food and beer, live entertainment, and handcrafted arts and crafts for sale. The Family Fun Zone will offer plenty of activities for kids. There'll be a costume contest along with the popular Weiner Dog Race.
Halloween at the Heard
Ever wanted to trick-or-treat among the dinosaurs? On October 16, McKinney's Heard Natural Science Museum will host Collin County's most unique family-friendly Halloween event. Halloween at the Heard will feature trick-or-treating amid its thrilling Dinosaurs Live! exhibit, featuring a trail of life-size animatronic dinosaurs. Activities will also include a family-friendly movie on the outdoor amphitheater stage. The Heard is another one of our regular partners for our Canyon Falls Explorer Series, and we highly recommend visiting this amazing museum.
 Woof-O-Ween in Flower Mound
Halloween goes to the dogs on Oct. 8 with Flower Mound's Woof-O-Ween. Held at the Hound Mound Dog Park, this event will feature awards for costumes in categories including the scariest, funniest, and most creative. There'll be a photo area along with treats, prizes and music.
Grapevine's Butterfly Flutterby & Fall Round-Up
Grapevine has two fun fall events you can enjoy on Oct. 16. One is the Butterfly Flutterby, which celebrates Monarch butterflies as they pass through Grapevine on their migration from Canada to Mexico. This event begins with a gossamer costume parade for kids and pets, followed by costume and art contests, special exhibits and live butterfly release. Also on Oct. 16, the Nash Farm Fall Round Up is a family-friendly event that takes you back in time with campfire cooking demos and historic demonstrations of rope making, carpentry, food preservation and other activities. There'll also be wagon rides, games, a bean and cornbread lunch, and more. 
Westlake Vintage Classic Car Show
If you love chrome and tail fins, then this Oct. 16 event is for you. Held at the Solana Club, the Westlake Vintage Classic Car Show will benefit the Westlake Historical Preservation Society. On display will be original and restored cars, trucks and pickups from 1900 to 1969.
Flower Mound Pumpkin Dive
What could be more fun than the after-hours, glow-in-the-dark Flower Mound Pumpkin Dive on Oct. 23? The indoor pool at the Flower Mound Community Activity Center will be decorated with black lights to provide a spooktacular setting for this family-friendly event, complete with a floating pumpkin patch. Pumpkin decorating supplies will be provided.
Chalk the Walk Art Contest
November is Arts Month in Flower Mound, and it will get off to a colorful start with the Chalk the Walk Art Contest on November 6. Taking place at Heritage Park, this contest is open to all ages and skill levels, with for different age groups and additional prizes for categories such as best fall-inspired masterpiece. The first 75 participants to register will receive a free set of chalk.