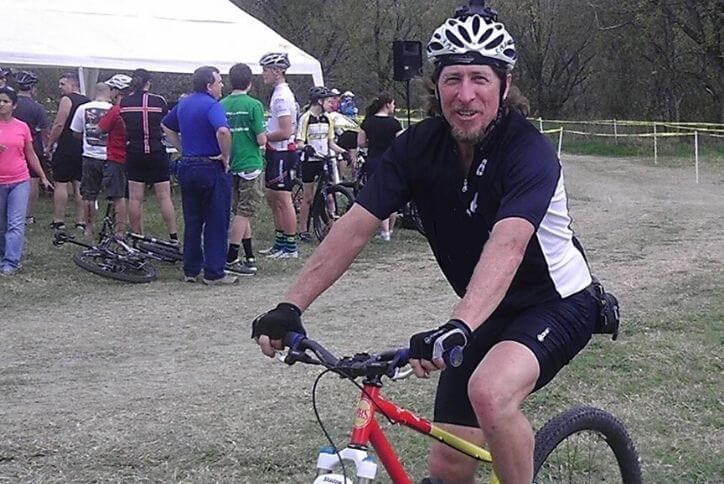 Meet the avid mountain biker creating Canyon Falls' new natural-surface trails
Up to six miles of natural-surface hiking and biking trails will be completed in Canyon Falls in early 2020, meandering through the Graham Branch Creek natural corridor that surrounds the Canyon Falls Club, Hay Barn, Pooch Park and other community amenities.
With a soft natural surface, and a narrow right-of-way that puts users in close contact with native trees, this new trail system complements the concrete trails that also wind throughout Canyon Falls.
Natural trails are ideal training grounds for mountain bikers, ultra-marathoners and cross-country runners, said Paul "Shadow" Johns, the founder of Shadow Trail Designs, who worked with Canyon Falls to create the trails. 
"But the natural trails aren't just for hard-core enthusiasts," said Johns, who prefers to go by the name of Shadow. "They can also be enjoyed by anyone who wants a softer surface for their knees and other joints, or who loves being up close with nature. There are also many people who love to run along the trails with their dogs, as long as they don't mind the chance of their dogs getting dirty."
Canyon Falls' natural trails have an approximately 42-inch clearance from side to side, with a single-track dirt pathway between 18 and 24 inches wide. By contrast, the concrete trails in Canyon Falls can be up to 10 feet in overall width.
"The concrete trails are ideal for residents who want to keep to a wide, level surface, such as families with strollers or small dogs," Shadow said. "The beauty of it is, Canyon Falls now offers a variety of trail types for residents to experience. All the trails will be connected, making it easy for users to hop on and off different surfaces for as long a distance as they would like."
When completed, the overall trail system at Canyon Falls will be between 16-17 miles long, including approximately 5-6 miles of natural-surface trails and about 11 miles of concrete trails.
Shadow has been designing and building hiking and biking trails in North Texas since 2005. He welcomes the opportunity to create unique trails that preserve the natural character of the land they traverse, and he found a unique palette for his skills in Canyon Falls.
The natural corridor along Graham Branch Creek is a beautiful Texas Cross Timbers ecosystem, with native trees such as elms, maples, live oaks and cedars, and an elevation change of more than 15 feet.
"I loved working with Canyon Falls to create this new natural trail system," Shadow said. "There are many outstanding trees in this area, and I found many opportunities to feed the trails through heavily wooded areas, so the trail user is literally just a foot away from some very nice branches in many instances."
Shadow has 15 years of experience in designing and building miles of trails in North Texas. He started mountain biking in 2005. Within a few months, he became trail steward of Boulder Park in Dallas, rerouting the maze of trails into a four-mile loop, and adding six more miles of trails within the next two years.
Not long after that, the Texas Land Conservancy asked Shadow to build trails on its land. He led a team of volunteers that built 8 miles of trail on what eventually became the Oak Cliff Nature Preserve.  In 2009, he got the opportunity to build Big Cedar Wilderness Trails on some of the highest elevation in Dallas.
From 2012-13, he was vice president of trails of Dallas Off Road Bicycle Association, responsible for working with the individual trail stewards to coordinate the maintenance of all our local trails.  He also worked with local governments, strengthening relationships that led to three new trails.
By 2015, Shadow had put in more than 7,000 hours as a volunteer, by his estimate, and he launched Shadow Trail Designs to start designing and building trails as a business. A background in civil engineering, which included 20 years in designing, building, and maintaining golf courses, helped to provide him with the vision and skills it takes to create trails.
Shadow has also been an avid mountain bike racer since 2005, with many podium finishes and several first place wins. "Racing helps give me great insight into what highly skilled riders are looking for in a trail," he says. "It's an honor to me that many cross-country and endurance races have been held at the trails I've built, to rave reviews."
Shadow began building the natural trail system in Canyon Falls in the fall of 2019, and he expects to complete the entire network, which will extend for approximately five miles, in the first quarter of 2020.
The first two loops in the natural trail system opened in late 2019, and the trailhead is accessible from the Pooch Park, where a dog wash is available for use in case dogs get dirty along the trail.
The trails of Canyon Falls are part of more than 200 acres of amenities, parks, and natural open spaces enjoyed by residents. Learn more about our amenities.