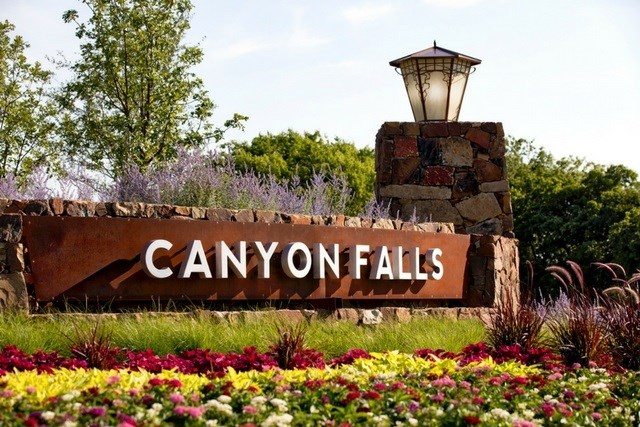 Canyon Falls rocks: the scoop on our stone
Everyone seems to love the rustic stone used for Canyon Falls' main entrance on Cross Timbers Road (FM 1171), as well as for neighborhood entrances and privacy walls throughout the community. The stone is also used extensively on the exterior and interior of our flagship amenity, the Canyon Falls Club.
You won't find this stone anywhere else, because it is a proprietary blend that is exclusive to Canyon Falls. It's called Canyon Moss, and it's a variation of hardened sandstone from South Texas and Central Oklahoma.
For the community walls and other features at Canyon Falls, skilled mason assemble the stone in a rustic ranch pattern with concealed joints. Like the preserved Hay Barn, this ranch pattern honors the agricultural heritage of the Canyon Falls land.
As a finishing touch, the stone walls at Canyon Falls are specially treated to encourage the growth of lichen moss, adding another touch of green amid more than 200 acres preserved for parks, trails and natural open space in the community.