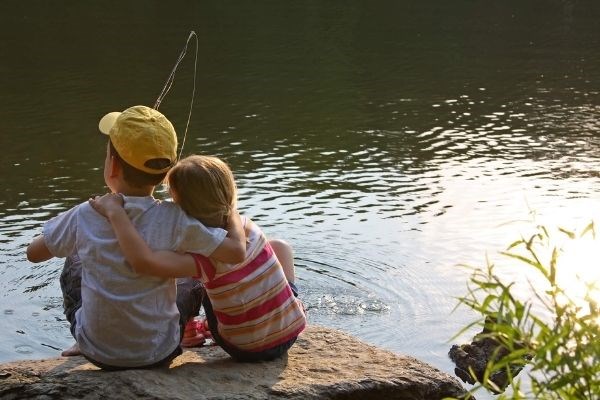 "Go fish" at Canyon Falls, where stocked ponds await fun and adventure
As part of our nature-focused community programming, fishing is available all year long at Canyon Falls. Residents can enjoy catch-and-release fishing at three of our seven scenic ponds, including Bluestem Pond. In addition to the adrenaline rush of reeling in the big one in, there are so many other benefits of this exciting outdoor activity.
Fishing is one of the most accessible outdoor sports for people of all ages. Did you know that more than one-third of the nation's 46 million fishers are women?
Catching fish provides low-impact exercise that helps develop motor skills. And while fishing yourself isn't likely to get your heart rate up much, hiking along the trails to reach Canyon Falls' fishing spots is great exercise.
Fishing can also make you happier, offering social bonding with friends, family and neighbors who also fish. The relaxation of slowing down and waiting for the fish to bite is beneficial, not to mention the thrill of catching one. Just spending time outdoors and soaking up Vitamin D is good for mind and body – but don't forget the sunscreen.
There are also many several popular fishing spots located near Canyon Falls, where you can keep and cook your catch for a healthy meal.
Lake Grapevine and Lake Lewisville are so big they're easy to find on our location map.
About 12 miles from the main Canyon Falls entry, Lake Grapevine is a roughly 8,000-acre lake famous for its large bass, whether you fish from a boat or from one of the many parks along the shore. Professional fishing guides are also available.
Lake Lewisville is located about 20 miles from Canyon Falls, and this enormous 29,000-acre lake offers world-class fishing by boat and along its 233 miles of shoreline. White crappie, white bass and largemouth bass offer the most angling activity. Hybrid striped bass, and blue and channel catfish are also abundant. If you don't have a boat, a fishing barge near Lake Park offers a rewarding opportunity to fish out on the water. Many coves and creeks off the main lake offer more great fishing spots. The Hidden Creek branch is a favorite.
Bob Jones Park, about 10 miles from Canyon Falls, has a six-acre pond with a first-class fishing area amid native Cross Timbers habitat.
Learn more about the Canyon Falls lifestyle and explore our new homes