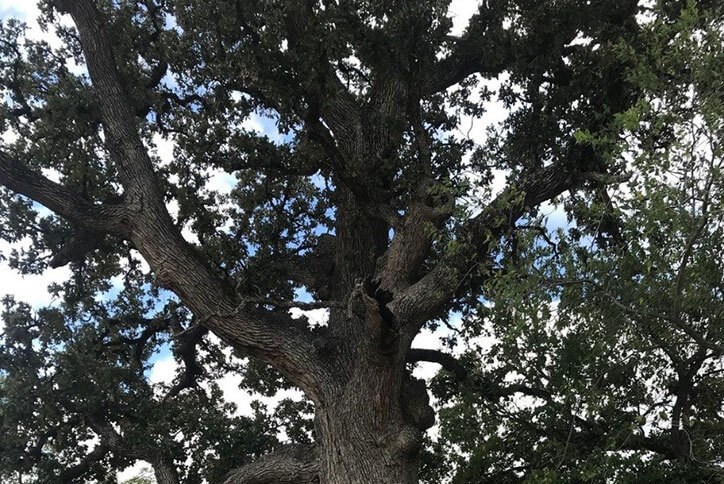 Canyon Falls wins Flower Mound's Tree of the Year award
Canyon Falls is home to the City of Flower Mound's 2018 Tree of the Year – a beautiful native Post Oak tree estimated to be between 120 and 150 years old.
James Hoefert, Flower Mound's urban forester, bases his age estimate on the tree's 40-inch trunk diameter.
"It's definitely one of the biggest trees in this area," he said. "You don't see many Post Oaks with a 40-inch diameter, so this one is very special. I think 120-150 years is a very safe estimate, and it could well be even older."
Hoefert remembers how Newland worked to preserve this tree during one of the earliest phases of Canyon Falls. "Post Oaks are very sensitive to root disturbance, and Newland was very conscientious about minimizing any impacts on this very special tree," he said.
During development activity near the tree, Newland realigned the street, Elderberry Way, and specially designed the subgrade, the material below the pavement, to prevent damage. A fence was installed around the tree's dripline, or the furthest outline of its branches, for added protection.
Fast-forward years later, and this champion Post Oak tree is thriving. As the number of families in Canyon Falls has grown, it has become a popular landmark and a backdrop for photos.
This summer, Newland's Marketing Director for Canyon Falls, Julenne Rushing, nominated the tree for Flower Mound's annual Tree Recognition Program, with the winners announced in early November.
The program recognizes several species of oaks and pines, but Post Oaks are Flower Mound's most prized trees, according to Hoefert.
"Post Oaks grow so slowly that they are not available from commercial nurseries today, so our priority has been to encourage preservation of as many existing Post Oaks as possible, especially the larger ones," he said.
Hoefert said the Newland team at Canyon Falls has done a good job in preserving this Post Oak and other significant trees throughout the community, including a grove of Post Oaks located across from the site of Argyle Middle School.
Canyon Falls' award-winning Tree of the Year is located in the 6700 block of Elderberry Way. To admire its beauty, and maybe take a photo with it, take Canyon Falls Drive to Denton Creek and turn north. Then turn right on Dolan Falls, and left on Elderberry.
Learn more about Canyon Falls' plan to preserve more than 250 acres for parks, trails, recreation centers and natural open space.