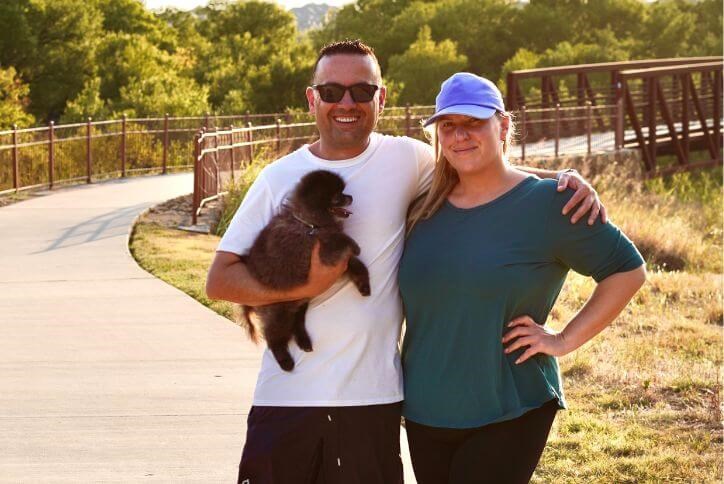 Meet new resident Rhea Van Der Werf, owner of Luxe Paws Mobile Pet Spa
With amenities like the Pooch Park, and social events for dogs and their owners, Canyon Falls is a perfect community for one of our newest residents, Rhea Van Der Werf.
With more than 20 years of experience in dog grooming, Rhea is owner of Luxe Paws Mobile Pet Spa. Now that she and husband Volkan have settled into their new Windmiller home, Rhea is working to shift the focus of her business to their new community and surrounding areas.
Before moving to Canyon Falls, Rhea, Volkan and their Pomeranian Uboo had lived in Carrolton. Wanting a bigger backyard and more open space all around, the couple began driving around different areas. They discovered Canyon Falls one day after hiking in Roanoke.
"We wanted a more peaceful lifestyle, and we found just what we were looking for in Canyon Falls. Even the cows we saw driving out here added to the country feeling," Rhea says.
Their new Windmiller home is on a large homesite surrounded by open space. As avid hikers, they have enjoyed the Canyon Falls trail system, which includes approximately 14 miles of natural and hard-surface trails.
Born in Canada, Rhea has more than 20 years of dog grooming experience, and she started Luxe Paws Mobile Pet Spa in 2013. You can check out some of her latest work on Instagram.
The business was successful from the start and has especially thrived in recent years, with more people working from home and wanting the convenience of mobile grooming.
"For us to come to the home is also less stressful for the pets, especially senior dogs and those with special needs," she says.
While she still services her established clients in Carrollton, Rhea is working to develop new clients in Canyon Falls and west of I-35 in general. "Canyon Falls has such a great location, my goal is to work closer to home," she says.
Canyon Falls also offers an easy commute for Volkan, general manager of the Westin Dallas Southlake Hotel.
Meet more Canyon Falls neighbors in our Resident Stories.