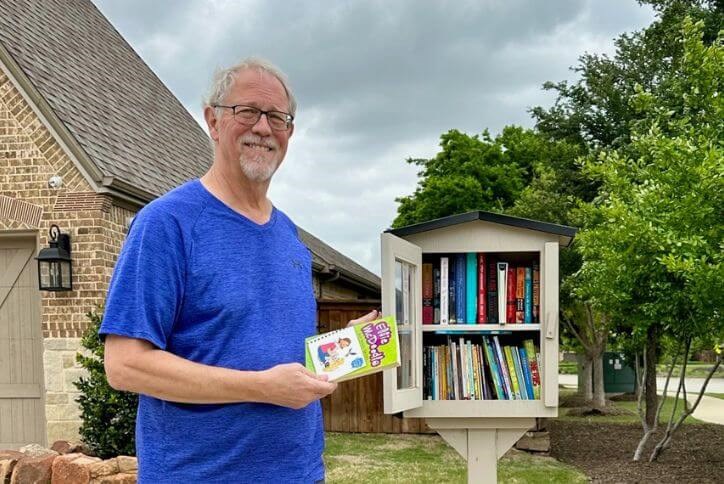 Meet the resident who nurtures the Little Free Library branches in Canyon Falls
There are more than 150,000 Little Free Libraries in the world, and two of the most loved and well-tended branches are in Canyon Falls, thanks to the stewardship of resident Jim Thomas.
Shortly after his family moved into their new Canyon Falls home, Jim decided to install a new Little Free Library near his house on the 6300 block of Prairie Brush Trail, just down the street from Argyle ISD's Argyle South Elementary School, opened in 2022.
In its first year, the library has received lots of positive feedback, with kids and parents stopping by frequently to take and leave books. Jim's posts about Little Free Libraries on the Canyon Falls resident Facebook page garner hundreds of likes and supportive comments.
Jim has also taken over the community's first Little Free Library, located inside the Hay Barn, remodeling it to make it more visible and inviting, and refreshing its stock of books.
With two Little Free Library locations up and running, Jim decided to devote the Prairie Brush location to children's books, since it's along a well-traveled route for schoolchildren and parents. The Hay Barn library, located next to the Pooch Park, focuses on adult books.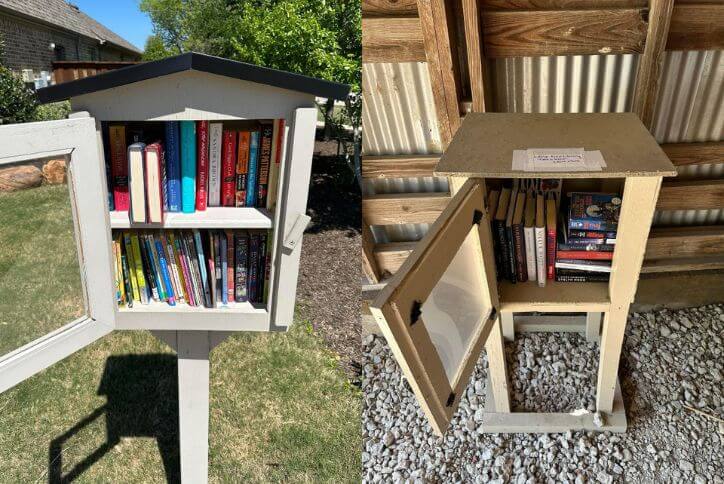 As father of five daughters and seven grandchildren, Jim has always considered books to be very important. A lifelong avid reader, he has more than 5,000 books in his home library, with thriller novels and classic detective stories among his favorite genres.
"I have always loved to read and am thankful that my mom encouraged me to read," Jim says in his statement on the Little Free Library website. "I discovered Little Free Libraries while visiting my daughter in San Diego. I enjoyed finding new books and exchanging them for extra ones that I had."
Originally from North Texas, Jim and his wife Kathy lived in San Antonio for 10 years before returning to the area two years ago.
In San Antonio, he was vice president of corporate social responsibility for Petco, and he previously held a similar position at Plano-based JCPenney.
Jim and his wife, Kathy, decided to return to the Metroplex after they retired, since four of their five daughters live in the area.
When looking for a new home, they gravitated toward Highland Homes, where Kathy had worked as a sales counselor in San Antonio.
After discovering some available Highland homes in Canyon Falls, the couple was very impressed with the community. "We love the location – it feels a little bit country but it's also close to Southlake and other areas with plenty to do. It's like the best of both worlds," Jim says.
The Thomases noticed the friendly vibe of Canyon Falls right away, and Jim has had the chance to talk to many of his neighbors in person and online since becoming the community's volunteer Little Free Librarian.
The operating principle of Little Free Libraries is "take a book, leave a book," but not necessarily at the same time, Jim notes. He welcomes his neighbors to donate books to the Little Free Libraries in Canyon Falls. If the libraries are full or if the donation is too large to fit into the boxes, he says it's okay to leave them on his front porch at 6384 Prairie Brush Trail.