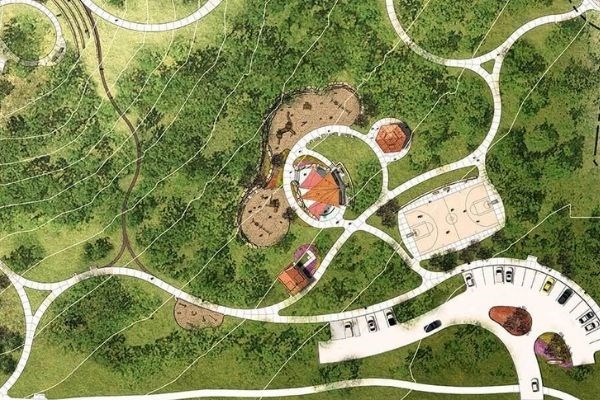 3 great things coming to Canyon Falls in 2022
We don't know all the good things that 2022 will bring to Canyon Falls, but we do know three of them.
There's the Town of Flower Mound's new Canyon Falls Park, opening in early 2022 on the eastern edge of our community, and a new Argyle ISD elementary school opening in Canyon Falls in August. There'll also be more fun events all year long from our new Lifestyle Director, Kaidie Moreno.
Here are more details about each of these exciting new developments.
Canyon Falls Park
With mature trees and more than 60 feet of elevation change across its 10.8 acres, the Town of Flower Mound's new Canyon Falls Park will be a beautiful addition to the more than 400 acres of parks, trails and natural open space available to Canyon Falls residents right at home.
Opening in early 2022, this new park is located along Stonecrest Road, between Autumn Leaf Court and Pedernales Falls Dr. Parking is provided at the main park entrance off Stonecrest, and the park is connected to the growing Canyon Falls trail system, now extending for more than 14 miles.
Park amenities include a unique basketball court surrounded by trees and rolling terrain, a 2,000-square-foot splash pad with a shade pavilion, and a fitness trail with eight exercise stations. There are two playgrounds for children of different age groups, designed to help kids develop social and motor skills. There is also a terraced seating area and a green for lawn games.
The park has a trail loop that leads up to its highest point, offering scenic views of the surrounding area. Keeping with its natural theme, the park will have solar-powered lighting, with monuments and retaining walls made of the same exclusive stone blend used throughout Canyon Falls.
This rendering of Canyon Falls Park is provided courtesy of MESA Design Group, the landscape architect hired by the Town of Flower Mound.
New Argyle elementary school
A new Argyle ISD elementary school is now under construction in Canyon Falls and planned to open in August 2022.
The district's third elementary campus, this $35 million school is located on a 16-acre site at the northwest corner of Denton Creek Boulevard and Prairie Ridge Road, near Argyle High School. It will offer core academics, music, art, PE, STEM and technology, with a capacity for 850 students from Pre-K through 5th grade.  
This new school will feature a design patterned after Argyle West Elementary, which opened in 2019, with some tweaks. This design has several flexible spaces for collaborative learning, with an open library at its center. This circular library connects the light-filled interior with the courtyard, and includes a Makerspace and other collaborative work areas.
Throughout the school, bright primary colors and natural materials such as wood and stone create a bright and cheerful environment. The school is equipped with the latest technology and has state-of-the-art facilities for physical ed, art and music.
We'll keep you updated on this new school as the opening date gets closer.
Learn more about the public and private schools serving Canyon Falls.