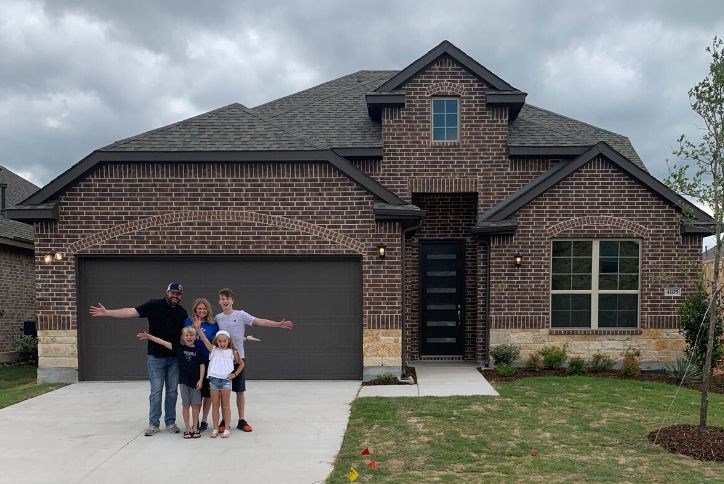 The House family finds the perfect house at Canyon Falls
Brittnie and David House were happy living in Flower Mound, but with three growing kids, they needed more space.
After two years of looking for a new house, everything they found was either out of their price range or in need of expensive repairs and updates.
When David found Canyon Falls in an online search, Brittnie was at first reluctant, because they wanted to keep the children in Lewisville ISD.
"I was hesitant at first, but I agreed to take a look," Brittnie says. "I immediately fell in love with Canyon Falls and the homes. It's a very beautiful, appealing and well-manicured community."
The Houses found a new K. Hovnanian home that provided the space they wanted and fit their price range. This leading national homebuilder offers new homes priced from the high $200,000s to high $300,000s in Canyon Falls.
After moving into their new home in May, this active family is ready to enjoy summer at Canyon Falls.
"We had wanted a pool in our next home, but the resort-style pools at the Canyon Falls Club and Westbridge Recreation Center are amazing. We can enjoy them and not have to worry about maintaining them ourselves," Brittnie says.
Schools have always been a top priority for the Houses, a blended family that includes Keegan, 13, and Hope and Hudson, both 9.
"Lewisville ISD is very highly rated, so I was a bit reluctant to move out of the district at first," she says. "When we researched the schools serving Canyon Falls, we were very impressed and felt very confident in making the move."
Canyon Falls is part of two highly regarded school districts. The House family lives in one of Canyon Falls' Northwest ISD neighborhoods, while other parts of the 1,199-acre community are zoned to Argyle ISD.
The House family is looking ahead to the new school year. Both of the boys play basketball and football, which dad David helps to coach. Hope is part of the competition cheer team.
David has a barbecue catering company as a side business, and the family goes to BBQ competitions throughout the year.
Brittnie, who works at the Centre for Neuro Skills in Irving, was on the Murray State University dance team and coached competitive dance for 12 years. She and David still enjoy county and western dancing.
"Our kids keep us extremely busy as they are all very athletic and active, and we do our best to keep up," she laughs.