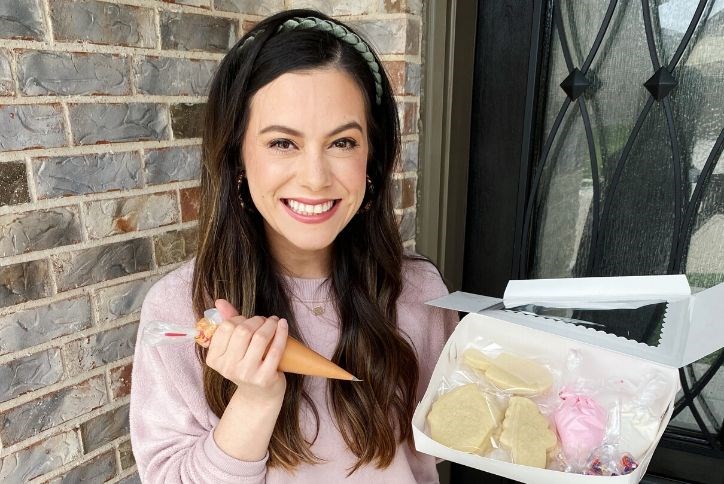 Sharayah Clementz offers DIY cookie kits for Canyon Falls neighbors
Like so many people right now, Canyon Falls resident Sharayah Clementz is doing more baking. But unlike most, Sharayah has turned her baking hobby into a thriving side gig, which she plans to continue after she returns to her job as a nurse.
Since earlier this spring, Sharayah has offered decorate-it-yourself cookie kits to her neighbors, providing an activity to keep kids engaged while school is out.
The kits include Sharayah's homemade sugar cookies, plus several colors of her scratch-made royal icing and sprinkles. 
Her Easter cookie kits were a big hit, and so were her personalized Mother's Day cookie gift boxes.
Even though she expects to be called back to work in June, she looks forward to making cookie kits for graduation and Father's Day. She also plans to create cookie designs honoring essential frontline workers such as nurses and doctors.
Along with her DIY kits, Sharayah also offers delicious ready-to-enjoy chocolate chip cookies.
Sharayah has been baking for about seven years, ever since she decided to make her husband, Jared, a multi-layer German Chocolate cake for his birthday.
"I had never baked much before, apart from some baking now and then with my grandmother," she says. "Jared's birthday cake was such a hit, I started making cakes on request for family and friends."
So far, Sharayah has sold all the cookie kits she can make to her neighbors at Canyon Falls, mostly through word-of-mouth and social media. They've been snapped up by residents of all ages.
"Families have loved getting the kids involved in decorating the cookies, and there have also been several couples without kids who have made it a fun date night activity," she says.
Sharayah and Jared are relatively new residents of Canyon Falls, and the cookie kits have also helped them meet more neighbors. They moved in about 18 months ago, after they decided to sell their first home, in Euless, and build a brand-new home.
"Our first home was an older house that needed a lot of work, and Jared realized he didn't want to be Mr. Fixit," she says. "We wanted to build a new home and customize exactly the way we wanted it. When we started looking around, we fell in love with Canyon Falls, especially the natural look of the community, with so many parks and natural open space."
To order a cookie kit or chocolate chip cookies, you can contact Sharayah in one of these ways: