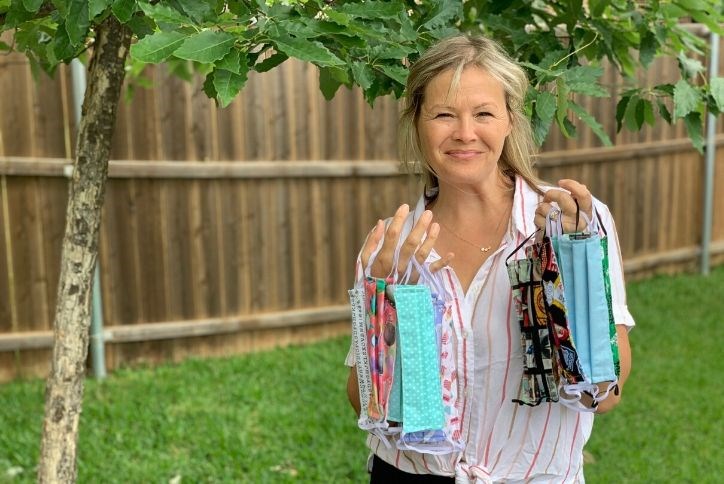 Angel Anderson is sewing hundreds of masks for frontline workers
A professional quiltmaker and embroiderer, Canyon Falls resident Angel Anderson has been working extra-hard lately, using her skills to help protect frontline workers and brighten the lives of students graduating without the traditional pomp and circumstance.
Angel estimates she has made about 800 face masks recently, and has donated about 300 of them to local hospitals such as Medical City Lewisville and Texas Oncology-Lewisville. She has also donated masks across the country, from Washington State to Virginia, to help relatives and friends who are all healthcare professionals.
At the same time, Angel has been busy making graduation quilts for local students. Crafted from t-shirts and other memorabilia from the students' first 18 years of life, the quilts have long been one of Angel's most popular creations. Today, they've taken on extra meaning.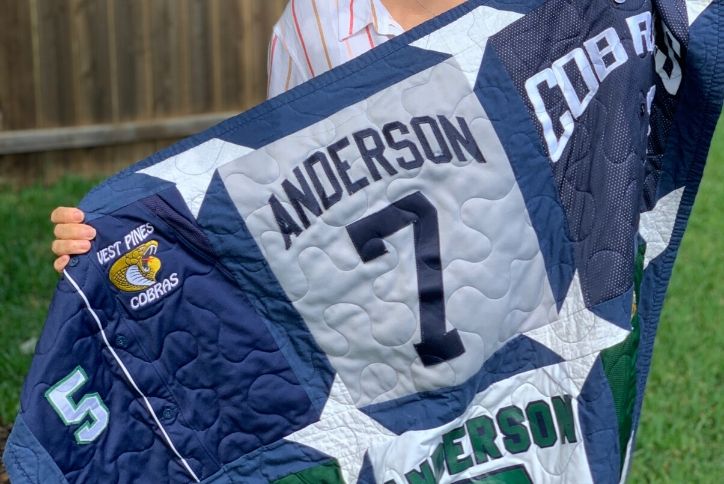 "In the past, people were fine with waiting if I couldn't get their quilts made before graduation. This year, everybody's more anxious, and very nicely asking me if I can complete their quilts in time," Angel said. "They're just looking for something to make graduation extra special this year, and I totally understand. My youngest child, Jake, also just graduated, and there was no walk or prom."
Angel and her husband, Mike, moved to Canyon Falls in 2016, from the Fort Lauderdale area. After 12 years in Florida as an executive with Spirit Airlines, Mike accepted a new management position with JSX, a hop-on jet service with corporate offices at Love Field.
With only five weeks to find a new home, the family found a perfect new home that was nearly completed in Canyon Falls. They closed and moved in on the same day that Jake started the first day of ninth grade. The Andersons have five children in all, with eight grandchildren so far.
Angel had been operating a flourishing quilt making business in Florida with a dear friend, gaining local and national recognition for unique products such as graduation and memorial quilts. Angel restarted the business on a smaller scale once she moved to Texas, and has processed more than 3,000 orders in the past two years through her Etsy store.
Angel had gotten to know a few of her neighbors before this spring, and her volunteer work has helped her meet many more.
"One of the few bright spots has been getting to know so many neighbors who have purchased masks and other products, such as humorous 'wash your hands' towels," she said. "I've widened my circle of friendships at Canyon Falls. Most of our contact lately has been by messaging and socially distant porch pickups and drop-offs, but I look forward to the day we can all get together in person."
Currently, Angel is donating one mask to local frontline workers for every two masks sold. The masks are priced $10 each and available in children's and adult sizes. These washable, reusable masks are made with two layers of high thread count quilter's fabric, meeting the same specifications as surgical masks. 
To order a mask or to ask Angel about other items, text her at 954-305-5517.