The latest on the financial hub that's booming just 7 miles from Canyon Falls
New York has Wall Street, but North Texas boasts Y'all Street, a thriving financial services hub poised for even more dramatic growth.
Starting in January, financial services giant Charles Schwab began moving 2,500 employees into the first phase of what will ultimately be a 1.2-million-square-foot headquarters complex in Westlake, located less than 7 miles from the main entry of Canyon Falls.
It is the latest development in a trend that is transforming the quiet town of Westlake into a thriving financial services hub that currently has more than 13,000 employees.
That number could grow even higher, as Schwab announced in late 2019 that it would acquire another huge financial firm, TD Ameritrade – which also has a significant Westlake presence – and would move the merged company's headquarters to the city.
"We say Manhattan has Wall Street but Westlake has 'Y'all Street,'" joked Jon Sasser, a spokesman for Westlake, in the Fort Worth Star-Telegram. "This is unparalleled not only in DFW but also Texas."
Sasser may have been joking, but he was dead serious about the fact that Westlake is emerging as a leading financial services hub for Texas and the United States, with other major players including Fidelity Investments and Deloitte.
Schwab's announcement "solidifies to folks that Westlake is sort of the financial hub of the Metroplex and, really, of the country," Westlake Deputy Town Manager Noah Simon told the Dallas Morning News.
Schwab's new headquarters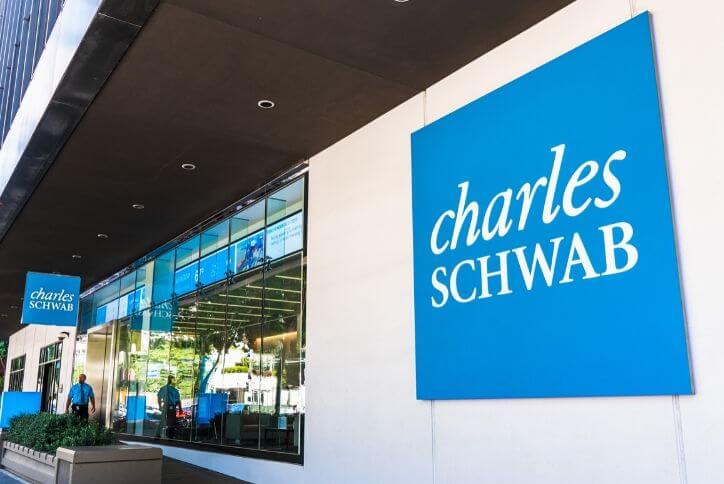 In mid-January, Schwab began a four-week process to move about 2,500 employees into the first phase of its new 70-acre campus, located at the corner of Highways 170 and 114.
Completed in late 2019, the first phase of Schwab's campus includes two office buildings, an amenity center and a parking garage.
Now under development and eyed for completion in 2021, the second phase of the Schwab campus will add two more office buildings. When finished, the overall campus will have about 1.3 million square feet, about the same as a major downtown skyscraper.
Following Schwab's announcement in late 2019 that it would acquire Omaha-based TD Ameritrade, it is still unclear exactly how the merger will impact either company's current footprint in the local area.
TD Ameritrade currently has about 2,000 employees in nearby Southlake, at a 78-acre campus opened in 2018. Southlake is located about 8 miles from Westlake via Highway 114.
However, there's little doubt that the merger will be another huge economic plum for North Texas in general, and for Westlake in particular. The merger and relocation will make Schwab the 11th largest public company headquartered in the Metroplex.
In announcing the merger, Schwab said that it would relocate the combined company's headquarters to its new Southlake campus, with up to 7,000 jobs there overall.
"Both companies have a sizable presence in the Dallas-Fort Worth area," the statement included. "This will allow the combined firm to take advantage of the central location of the new Schwab campus to serve as the hub of a network of Schwab branches and operations centers that span the entire U.S. and beyond."
The deal to merge the two companies should close in the second half of 2020, subject to regulatory approval, and the integration of the two firms is expected to take 18 to 36 months to complete.
A financial hub
A deal valued at about $26 billion, the Schwab-Ameritrade is big news in the financial world, and it has the potential to be an enormous game-changer for Westlake, which has been quietly building itself up as a financial services hub ever since Deloitte opened its leadership development center, Deloitte University, there in 2011.
Envisioned as a career accelerator and lifelong learning center for Deloitte's employees, DU (as it's called by the company) sits on 107 acres amid rolling hills, live oaks and ponds. Built at a cost of $300 million, DU includes an 800-room resort facility, with 35 classrooms 36 team rooms, a grand ballroom and an amphitheater. Amenities also include a 12,000-square-foot fitness center, two miles of trails, and a basketball court. The Barn is a relaxing space for socializing after a long day of learning, and The Market is a dining area and buffet-style restaurant.
About 50,000 Deloitte employees visit DU each year, and they give it an average satisfaction score of 4.7 out of 5 stars.
It's said that Deloitte chose the location largely because of the climate and the ease of getting its employees to and from DFW International Airport from its offices across the globe.
Fidelity Investments is another major presence in the Westlake's growing financial services hub, with the Boston-based company maintaining more employees in Texas than any other state. Fidelity's Westlake campus is its largest regional hub, with about 6,000 employees, according to the Fort Worth Star-Telegram.
In 2019, Mercedes-Benz Financial Services finished a 200,000-square-foot office at AllianceTexas, moving about 900 employees into a new four-story building and adding another significant feather to the area's financial services cap.
Elsewhere in the Metroplex, JPMorgan Chase is expanding its already massive campus in Plano's Legacy West development. A new 12-story office tower will house nearly 4,000 additional employees when it is completed in 2021. That would bring the total employee headcount for the company's Plano campus to nearly 11,000.
Financial services employees choosing Canyon Falls
Canyon Falls is located less than 7 miles from Schwab's new Westlake campus, with a direct route up U.S Highway 377.
This convenience to Schwab, Fidelity and other major local employers has already convinced a growing number of financial services employees working in Westlake to choose Canyon Falls for their residences.
This includes the McLaughlin family, which recently relocated from Missouri to Texas for dad Michael's job at Fidelity. As an unexpected bonus, the McLaughlins found out they were the 1,000th family to move to Canyon Falls and were welcome with a special gift basket.
With new homes priced from the high $200,000s to the $800,000s, Canyon Falls offers residents two outstanding school districts, Argyle ISD and Northwest ISD, amid a master plan that offers more than 200 acres of recreational amenities, including parks, trails and natural open space.
Learn more about the Canyon Falls lifestyle.