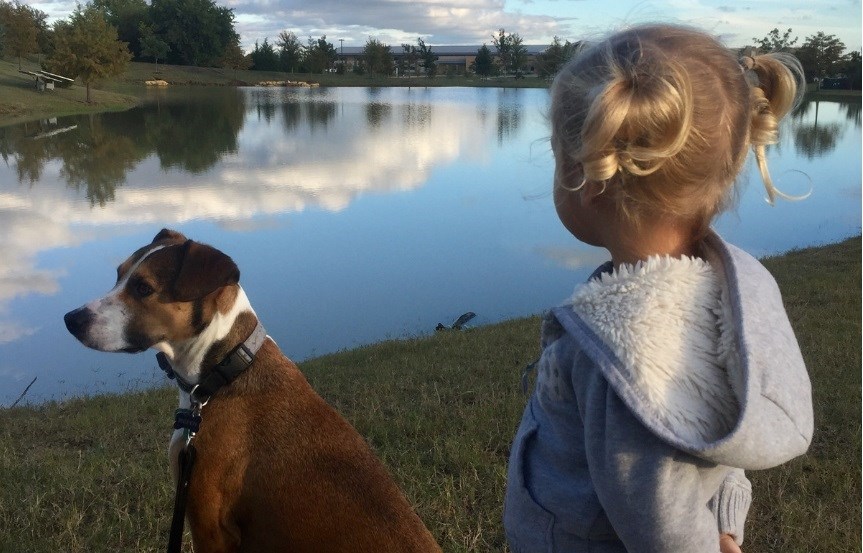 Exercising with your dog at Canyon Falls benefits you both
A fitness enthusiast who teaches one of the most popular exercise classes at Canyon Falls, resident Alexis Grizzle appreciates the benefits of exercising with her family's dog, PigPen.
"It is so important to exercise your dog," Alexis says. "Exercise is great for dogs' physical and mental health, helping them live longer and have fewer behavioral problems."
Alexis and her daughter, Adelyn, enjoy taking PigPen out for walks along the miles of trails at Canyon Falls nearly every day.
Alexis first met PigPen, a "coconut retriever," when she volunteered at an animal shelter in the Virgin Islands, where the family lived before moving to Canyon Falls. PigPen came with them, and like the rest of the family, he has made many new friends here.
"PigPen truly looks forward to the walks. We usually go around the same time in the afternoon, after Adelyn wakes from her nap. He is waiting right at my feet ready to go," Alexis says. "There are so many beautiful accessible trails around the community we love to take. We will sometimes stop at the Pooch Park and let him socialize and run around with the other dogs."
Alexis says that people also benefit from exercising with their dogs.
"It's not just important for the dog to walk, but for me too. I really enjoy walking and gain so many important health benefits. It's also a time to bond, and it helps build trust and confidence between people and their dogs," she says.
Experts agree. For both dogs and people, the benefits of exercise include a stronger heart, lower blood pressure, more energy, denser bones, and a lower risk of depression. For dogs, regular walks can also help reduce common behavior problems.
Along with trails, Canyon Falls offers the Pooch Park, which has fenced off-leash play areas for large and small breeds, along with water fountains and a wash station.
Canyon Falls also has several Yappy Hour meetups throughout the year, as part of the community's active calendar of events for residents of all ages.
Learn more about the Canyon Falls lifestyle, which offers more than 200 acres of parks, trails, natural open space and amenities, including the Canyon Falls Club.