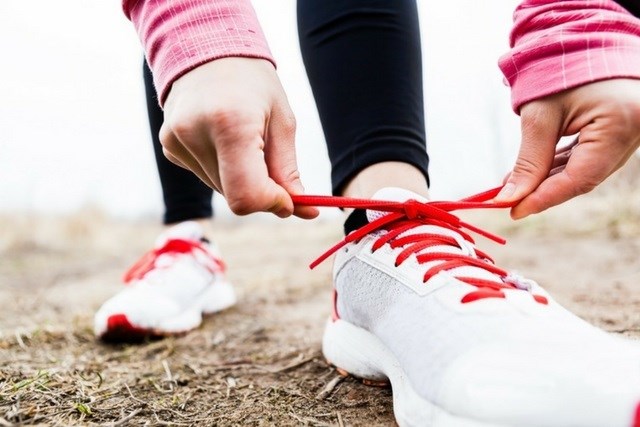 5 ways to keep fit at Canyon Falls
Year after year, getting fit and healthy top lists of New Year's resolutions, and 2019 is no exception.
In a survey of 2,000 people, published in Inc. magazine, the No. 1 New Year's resolution was to diet and eat healthier, cited by 71% of respondents. Exercising more was No. 2 (65%), and losing weight rounded out the top three (54%).
Researchers have noted that the majority of New Year's resolutions fall by the wayside. Canyon Falls residents have an advantage with their health and fitness resolutions, with a variety of convenient ways to exercise close to home, and classes where residents can get fit and meet neighbors at the same time.
Here are the top 5 ways to get fit at Canyon Falls.
Fitness center. The gleaming fitness center at the Canyon Falls Club offers state-of-the-art aerobic and strength training equipment, with convenient restrooms and changing rooms.
Trails. Canyon Falls has miles of connected trails that residents can enjoy amid natural beauty. As Canyon Falls continues to grow, so does the trail system.
Fitness classes. Canyon Falls offers a changing lineup of group fitness classes, including
Camp Gladiator, Stability Ball and Zumba. One of the newest classes, Strides 360, provides a heart-pumping workout to help residents develop speed, agility and strength.
Pooch Park. Four-legged family members need exercise too, which can result in lower blood pressure, a stronger heart and a lower risk of depression. The Pooch Park at Canyon Falls is a fun place for both people and pets to exercise and get fresh air, with fenced play areas for small and large dogs.
Swimming. Swimming is one of the best all-around exercises for toning muscles, building strength and maintaining a healthy weight. Canyon Falls offers pools at the Canyon Falls Club and Westbridge Park.
Learn more about the Canyon Falls lifestyle, which includes fun resident events and more than 250 acres of parks, trails, recreational amenities and natural open spaces.