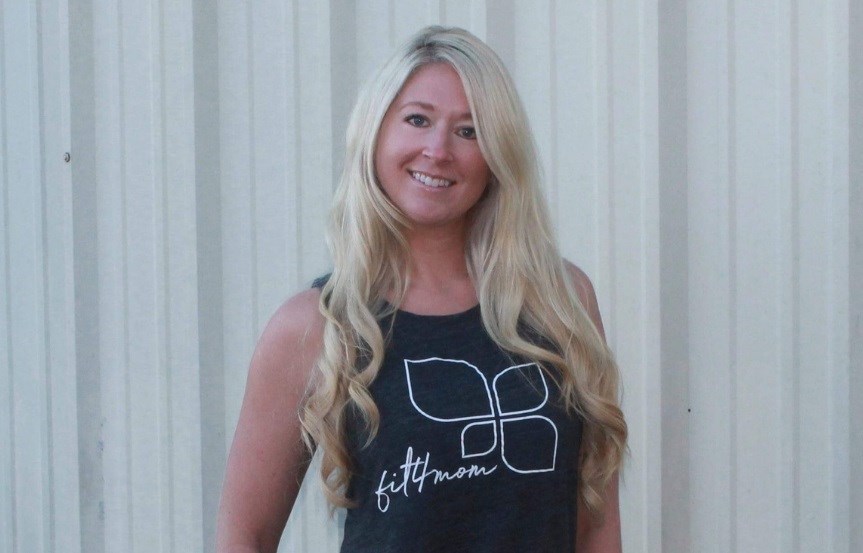 Canyon Falls resident Alexis Grizzle shares love of fitness with neighbors
Alexis Grizzle has found it easy to keep fit since her family moved to Canyon Falls nearly three years ago, taking advantage of the fitness center at the Canyon Falls Club and miles of trails nearly every day. 
Alexis recently began sharing her love of fitness with some of her neighbors, as the teacher of the community's newest fitness class, Strides 360.
Like other fitness classes at Canyon Falls, including Camp Gladiator and Stability Ball, Strides 360 is offered through FIT4MOM's Flower Mound/Highland Village/Argyle studio.
The nation's leading prenatal and postnatal fitness program, FIT4MOM provides health and wellness programs and social support for women in all stages of motherhood, from pregnancy and beyond, even after the kids are off to school.
Alexis says that the Strides 360 class takes advantage of some of Canyon Falls' most popular amenities to provide a heart-pumping workout to help moms develop speed, agility and strength through body weight exercises and interval training.
"Moms are so busy, and this class helps them develop added endurance and energy, so they sprint through their day," Alexis says.
About 10 Canyon Falls moms currently participate in this new 60-minute class, offered two mornings each week.
They meet at the Canyon Falls Club, then they run along the trails, making their way toward the Hay Barn, where they use the open space for run obstacle courses and body weight exercises. When the weather is too cold to hold the class outdoors, they meet at a nearby gym.
For Alexis, sharing her love of fitness is just one more way to get to know her neighbors at Canyon Falls.
"We had never owned a home before we moved to Canyon Falls, and we absolutely love it here," she said.
Alexis and her husband, Josh, started looking for a home when they returned to the United States from the Caribbean, where Josh oversaw construction of medical and resort projects in the U.S. and British Virgin Islands.
"We looked all over this area, and Canyon Falls was the only community we felt a connection with," she said. "We were immediately drawn to the open, natural layout of the community. It still feels like we are out in the country, but everything is also so convenient."
The Grizzles have loved forging friendships with their neighbors at Canyon Falls. "We've made so many great friends here," Alexis says. "There are at least eight families just on our street that we've become very good friends with. Living here is a nonstop celebration of birthdays, holidays and just getting together."
When Alexis is not teaching Strides 360 at Canyon Falls, you can see her and her daughter, Adelyn, now 3, out walking the trails nearly every day. PigPen, a "coconut retriever" who came along from the Caribbean with them, usually comes along, and some days they treat him to a visit to the Pooch Park.
Fitness classes are just one of the many events and activities that Canyon Falls residents enjoy throughout the year. Learn more about our active lifestyle.