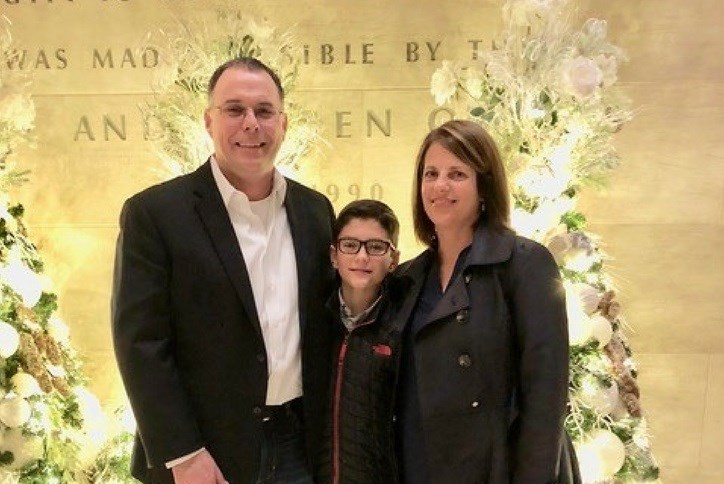 Meet the Residents: The Woods family loves Canyon Fall's parks and trails
As a leading North Texas Realtor, Will Woods, owner of Magnolia Realty, has in-depth knowledge of new and completed communities in Flower Mound, Argyle, Southlake, Roanoke and other cities. When it came to choosing a new community for their own new home, the Woods family selected Canyon Falls. Will recently took a few minutes out of his busy schedule to explain why.

Q. Prior to moving to Canyon Falls, where did you and your family live?
A. We have in lived the Argyle and Lantana area for the last decade. Most recently we lived in Harvest.
Q. How did you hear about Canyon Falls?
A. As a Realtor, and as owner of Magnolia Realty in Argyle, we were very familiar with Canyon Falls and all the wonderful amenities.
Q. What attracted you to Canyon Falls?
A. Location, the design of the community, the schools, Highland Homes, and the homesite we were able to get. The tax rate was also a factor in our decision.
Q. Did Argyle or Northwest ISD factor in to your decision to move to Canyon Falls?
A. Argyle ISD is our driving factor in our real estate decisions, as long as my son is in school.
Q. What builder did you select?
A. We selected Highland Homes. They are one of our preferred builders for our clients and for us as a family. From the top of the company, to the sales people and the builders, they believe in standing behind their product and doing the right thing for the client. We love their designs, floor plans and people.
Q. What is your favorite home feature?
A. We love a single-story home with high ceilings. It just feels good to us. We have owned two-story homes, but after we had our first one-story, there was no going back.
Q. Please tell us about your family, and what made Canyon Falls a good fit for everyone's interests.
A. My wife, Leslie, our son, Jack, and I live in the home. Our daughter, Taylor, is grown and out of the house. Our family is very involved in our church. It was important to be closer to the church to allow participation in activities and volunteering. We love our animals: three dogs and two cats. We enjoy hunting, traveling, and participating in Argyle events as a family. The dog park, the trails, and the feel of Canyon Falls made it the perfect match for us.
Q. What do you love most about Canyon Falls?
A. Everything, but especially the look and feel of the community.
Q. What's your favorite local restaurant?
A. Savory Bistro in Argyle is definitely one of our favorites for a nice dinner. We also end up at Fuzzy's and Denton Country Club quite a bit for meals.
Q. What's your favorite nearby shopping destination?
A. The Shops of Highland Village in Argyle are great and offer so many options.
Q. What's your favorite nearby entertainment venue?
A. The AMC Highland Village 12 movie theatre in the Shops of Highland Village.