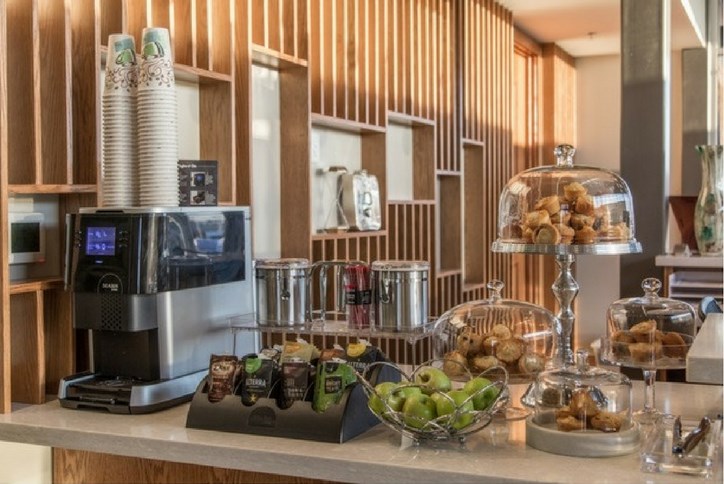 7 reasons to begin your visit at the Canyon Falls Welcome Center
With new amenities including the Hay Barn and the Pooch Park, Canyon Falls is growing fast. To make sure you don't miss a thing, we invite you to stop by the Canyon Falls Welcome Center before visiting our nine leading homebuilders.
The Welcome Center offers an assortment of fresh baked goods, delivered daily from Flower Mound's Swirl Bakery Café. From lemon bars to brownies, you can wash these sweet treats down with a cup of freshly brewed coffee or tea while exploring the community exhibits.
In case you need any more convincing, here are six more reasons to begin your visit at the Welcome Center.
1. It's also the Club at Canyon Falls. The Welcome Center is housed in the same building as our signature recreational complex, so you can take a fun tour of the fitness center, swimming pool, splash pad and other amenities while getting info on builders, schools and other community details.
2. The views are great. You're welcome to enjoy a leisurely walk around the Canyon Falls Club and take in the scenic views of the scenic natural corridor along Graham Branch Creek. The sunsets are spectacular!
3. Canyon Falls is big. At 1,200 acres, Canyon Falls is a big community, with nine homebuilders, more than a dozen model homes and two school districts. Our friendly community representatives can help you decide which neighborhoods you may want to visit first.
4. The scoop on neighborhoods. The Welcome Center is also the best place to learn about neighborhoods that are opening soon or closing out. Both have their advantages.
5. Move-in ready listings and maps. You can also grab the latest listings of new homes available for quick move-in and get a community map at the Welcome Center.
6. Meet here. The Welcome Center is a great place to meet with your Realtor before visiting the builders.
Learn more about the Welcome Center and the Canyon Falls Club.