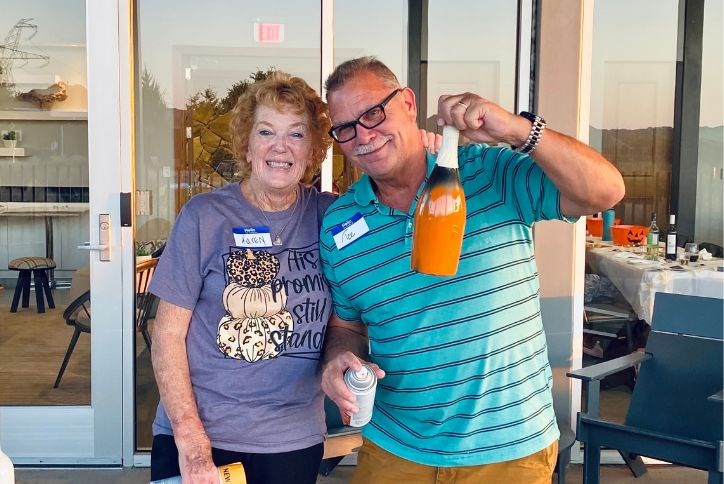 Moving to Canyon Falls, Karen and Irvin Thomas join a growing trend of "baby chasers"
When Karen and Irvin "Tee" Thomas moved from Lubbock to the Metroplex four years ago, they joined a growing trend of "baby chasers" relocating all over the U.S. to be closer to their grandchildren.
Dallas is one of the Top 5 cities in the nation attracting baby chasers, according to the Baby Chasers Index from Meyers Research.
With two daughters and five grandchildren in the Metroplex, moving a few hundred miles was a no-brainer for Karen and Tee. They have four children in all, with one more grandchild in Atlanta.
Fast-forward to 2023, and Karen and Tee love living within 30 minutes of their growing Metroplex family. In a brief time, they've become firmly enmeshed in their new life at Canyon Falls, with Karen now serving as the resident representative on the HOA board of directors.
As much as Karen and Tee love Canyon Falls, it wasn't their first home in the Metroplex. When they first moved to the Metroplex in 2018, they purchased a new home in a community near Haslet. But after a few years, they felt like traffic and congestion was increasing in the area. They longed for more open natural space as well as a stronger sense of community.
"We had just started looking for a new community and when we discovered Canyon Falls, it was exactly what we wanted," says Karen. "Canyon Falls feels like we're out in the country but it's actually very close to major highways like I-35 and U.S. 377, and major thoroughfares such as Cross Timbers Road."
The Canyon Falls location makes it easy for Karen and Tee to visit with their family often.
"Our grandkids visit so much, they have a whole set of friends here they look forward to playing with," says Karen.
When not spoiling the grandkids at nearby attractions in Alliance, Highland Village, Roanoke and other places, the family finds plenty to enjoy right at home.
"Canyon Falls is a truly a place to roam, with more than 400 acres of parks, trails and open space." Karen says. "You just step outside your door and there's miles of trails, a dog park and so much more. We love the Canyon Falls Club and the resort-style pool. It's a great place to go sit, have a drink and enjoy the gorgeous sunset."
Meet more neighbors at Canyon Falls with our Resident Stories.