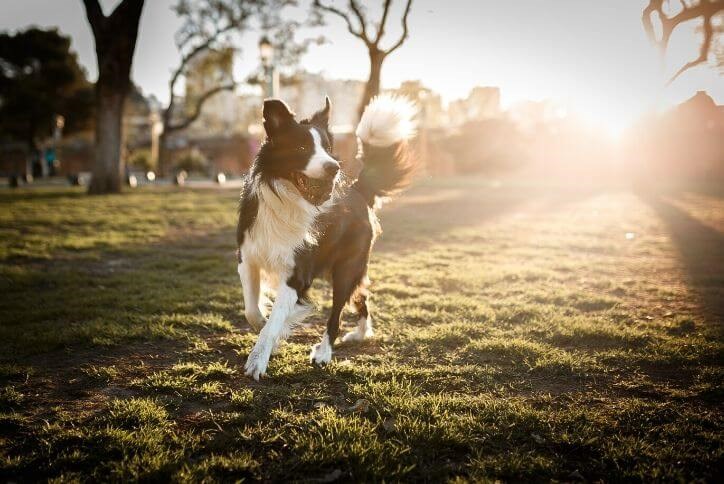 Our Canine Bucket List has 8 ideas for fun with your pooch
Bucket lists are popular because they help us focus on the things we want to enjoy most in life, so why shouldn't our furry family members have their own bucket list? After all, for many of us, they're our best friends and constant companions.
With that in mind, we came up with this Canine Bucket List of eight things to enjoy with your dog in Canyon Falls, Flower Mound, Roanoke and other nearby cities.
Hound Mound. In addition to having one of the cleverest names we've ever seen for a dog park, Flower Mound's Hound Mound welcomes visitors with a fun bone-shaped sign. Located in Heritage Park, this five-acre canine wonderland has wooded play areas for large and small dogs, including trails and agility structures. For keeping cool, it has natural shade and shape structures, along with hybrid Bermuda turf, and seating areas with water fountains. It's open daily, except for Wednesdays.
Wiggly Field. We had to include Wiggly Field in Denton, because it's another local dog park with a name we love. About 11 miles from Canyon Falls, Wiggly Field is of course named after Chicago's iconic ballpark, Wrigley Field. And tails will definitely wiggle here, thanks to grassy play areas for different sized dogs, a pond for swimming, and drinking fountains for both pets and people. If you have a shy dog, Wiggly Field has a special play area just for them.
Freedom Dog Park. Located about 6 miles from Canyon Falls in Roanoke, Freedom Dog Park offers your dog the freedom to run around and have fun in an 8.3-acre leash-free zone. One user describes it as "Six Flags for dogs." There are play areas and training and agility courses for small and large dogs. A wooded natural area lets dogs and people enjoy a true outdoor experience, while taking a break from the heat. There are also dog water fountains, bathing areas, shade pavilions, and sitting areas. For the kids, the Dino Playground invites them to exercise and explore their imaginations on giant skeleton bones, a hatched egg, and multiple slides and swings.
Patios for Pooches. If you're like us, you love to bring your dog along when you go out to eat. Here's a list of seven Flower Mound restaurants with dog-friendly patios. And if you also love to take your dog shopping with you, here's a list of dog-friendly local stores from BringFido.com.
Three Dog Bakery.  With locations near Canyon Falls in Flower Mound and Alliance, Three Dog Bakery offers fresh, scratch-baked and nutritious treats for your furry family member, along with food and celebration cakes. Dogs available for adoption are featured in some stores on many weekends – check their website for details. In Dallas, the Lucky Dog Barkery describes itself as "the kind of store your dog would build," and we agree!
Run for Retrievers. This annual event takes place every October at Canyon Falls, and it's not just for retrievers. Sponsored by DFW Lab Rescue, Run for Retrievers is a fun family-friendly and dog-friendly event for all people and pets. The highlight is a 5K and 1-Mile Fun Run for both dogs and people, and you'll definitely want to stay around for Canyon Falls' annual dog-friendly Fallapalooza. Immediately following the race, it features music, games, food trucks, crafts and more.
Canyon Falls Pooch Park. We've saved our favorite canine destination nearly for last – our very own Pooch Park at Canyon Falls. The restored Hay Barn and the rustic silo entrance to one of the play areas gives the Pooch Park a unique historic feeling, but your dogs will probably be more appreciative of the large fenced play areas amid trees and grassy meadows. They might not appreciate the dog wash station, but you probably will. Bring the dogs out for one of our occasional Yappy Hour events at the Pooch Park, or for one of our socials at the Hay Barn. Or just bring them over any time – you'll like meet some fellow dog-loving neighbors.
Natural-surface trails. For the last adventure on our Canine Bucket List, we've excited to introduce our newest amenity, miles of natural-surface trails that meander through the scenic Graham Branch Creek natural area near the Canyon Falls Club. You and your dog will both love the soft natural surface of these trails, which extend between five and six miles. You'll both also appreciate the close-to-nature experience offered by these narrow trails, which wind through wooded areas, with a noticeable change in elevation. A trailhead is located next to the Pooch Park. If your dog is a pampered pooch who would prefer to stay on the concrete trails, Canyon Falls has miles of those as well.
Learn more about the 200+ acres of recreational amenities and natural spaces preserved throughout Canyon Falls.