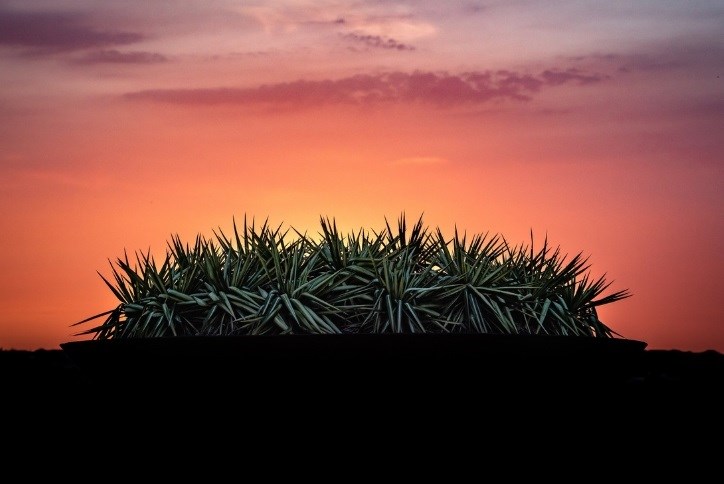 Resident Ronnie Sunker captures Canyon Falls' natural beauty
As one of earliest residents of Canyon Falls, Ronnie Sunker has seen many changes since his family moved here in 2015.
One thing that hasn't changed is the beautiful natural environment of Canyon Falls – something this professional photographer often captures on his daily trail walks with his family and trusted Nikon camera.
"We were one of the first families on our street when we moved in, and it's been wonderful to watch Canyon Falls grow, while maintaining that nice natural feeling it had from the beginning," said Ronnie, who grew up in the Houston area and moved to study photography and design at the University of North Texas. He met his wife, Stephanie, at UNT, and they have lived in North Texas ever since their college days.
Ronnie is well-known among his neighbors for his beautiful photos of sunrises, landscapes and wildlife, shot amid the more than 200 acres of parks, trails and natural open space in Canyon Falls.
He is perhaps even better known as the unofficial photographer of resident life in the community. Ronnie's company, Sunker Creative Studio, is regularly hired by fellow Canyon Falls residents to take family portraits and cover weddings, graduations, birthday parties and other life events.
Ronnie's own family has grown since he and Stephanie moved into their new home. At the time, their first child, RaeLee, was only 2 years old, but they were already looking ahead to the day she would start school.
"The Argyle Independent School District was the main reason we moved here from Lewisville," he said. "RaeLee started kindergarten this year at Hilltop Elementary, and we couldn't be happier with our decision."
The family has grown with the arrival of son Riley, now 2.
The Sunkers love to spend as much time outdoors as they can, and their daily walks in the late afternoons and early evenings are among their favorite family moments.
"We love to walk every day along the trails and around the ponds and parks," Ronnie said. "It's a good way to get the energy out of the kids and the dog, so they can start settling down for the evening. It's also a great time of day to get some nature shots, so I always bring my camera."
Asked if he has any tips for share with amateur photographers wanting to get the best shots, Ronnie says that lighting and quickness are both key.
"Lighting is important. You can get some wonderful lighting at sunrise and sunset, and a lot of people don't realize you can get some beautiful effects at night. Minimal lighting can be very striking for portraits," he said.
Today's digital cameras and phone cameras let users take multitudes of shots quickly, so they can capture an expression or smile that might last for less than a second.
"The days of posed shots are long gone. Now, it's all about candid shots, and digital cameras are perfect for that, since using up film is not a consideration," he said. "You can shoot constantly and just save the ones you like."
Ronnie said it's not unusual for him to take 300 shots an hour while photographing an event like a wedding or party, and about half of those shots end up as keepers.
Now for the big question – how do you get kids to smile for a photo? Ronnie says he's learned a lot since he's had his own kids. "Sometimes it's easier when someone other than the parents are trying to get a kid to smile. I always bring along some props, like a toy, to distract a kid and bring out a smile."
Ronnie also has a secret weapon when it comes to getting kids to smile: his own 5-year-old daughter RaeLee. "She really warms them up, and she also helps me hold my gear. She loves going out to shoot with me every time she can," he said.