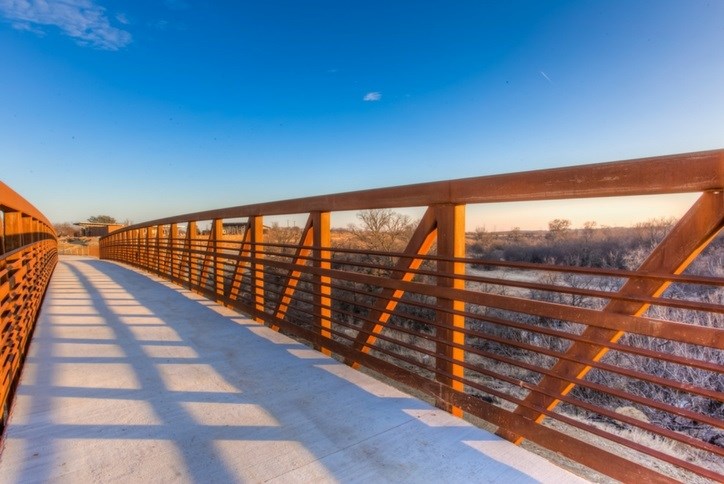 Trails connect Canyon Falls residents to nature – and each other
Parks and trails are the recreational amenities that today's homebuyers want most, and Canyon Falls offers plenty of both, with a master plan that envisions more than 250 acres of parks, trails and natural open spaces.
The Canyon Falls trail system will ultimately extend for seven miles, meandering through the community like a green ribbon.
One of the most scenic parts of the trail system runs through the natural Graham Branch Creek corridor, and a 140-foot bridge enhances connectivity on both sides of the creek.
With its rusted steel railings, this new bridge fits right in with other Canyon Falls landmarks, including the Canyon Falls Club and the main entrance along Cross Timbers Road (FM 1171). The bases of the bridge have the same Canyon Moss stone used throughout Canyon Falls, a proprietary blend that is exclusive to the community.
The trail system connects all Canyon Falls neighborhoods with popular amenities including the Canyon Falls Club, the Hay Barn, the Pooch Park and the Westbridge Park Recreation Center.
Trailhead markers help residents navigate the growing trail system, and benches offer a place to rest and enjoy the beautiful environment. Water fountains and emergency call boxes will be added in 2018.
Many new homes in Canyon Falls are located along the greenbelt trail system, offering scenic views and immediate access to fun and adventure. Explore new homes in Canyon Falls.