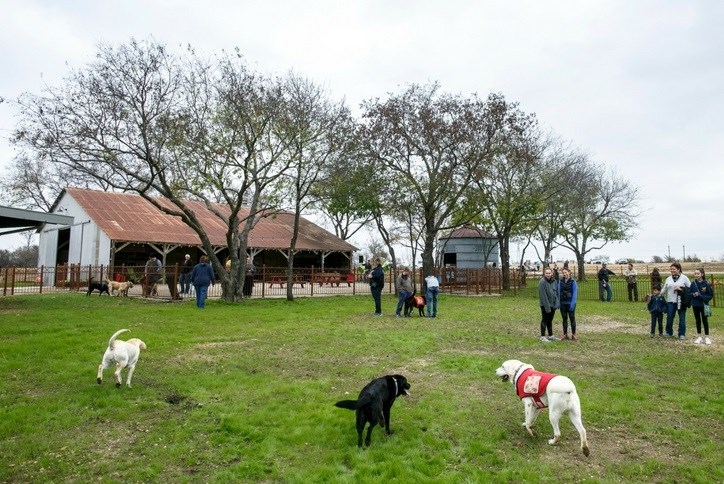 Pooch Park, Hay Barn now open in Canyon Falls
Canyon Falls has some new recreational amenities that all residents will love, including the four-legged ones.
Located between the main entrance and the Canyon Falls Club, the new Pooch Park and the Hay Barn are designed to host everything from a day at the dog park, to festive community-wide special events.
This five-acre fun center also preserves some of the history of the land that is now Canyon Falls. The Hay Barn has stood on its site for the better part of a century, and Newland Communities maintained its rustic character while re-engineering the interior to safely accommodate residents.
With its wide-open interior and compacted gravel floor, the Hay Barn will host community events and activities, from live music concerts to HOA meetings.
The historic Hay Barn also includes an outside overhang that has been re-purposed as The Porch, an outside event venue with covered and open-air spaces. With its string lighting and picnic tables, The Porch will provide Canyon Falls residents with yet another venue for special events, or for just hanging out with family and friends.
The Porch area also features a historic silo that has been moved from another part of Canyon Falls and restored. Now, the silo provides a unique entry to Pooch Park's fenced small dog area.
The Pooch Park also includes a fenced play area for large dogs. Both areas include mature shade trees that have been preserved, along with smooth boulders to provide natural seating areas.
These new amenities are part of a master plan for more than 250 acres of parks, trails and natural open spaces at Canyon Falls. Learn more about our amenities.