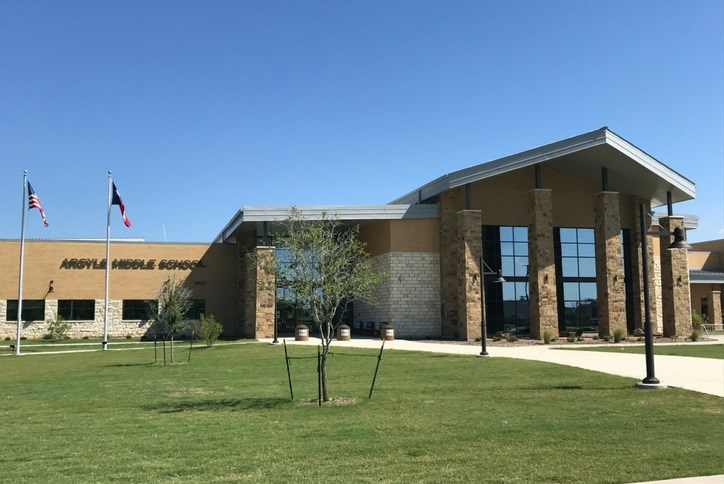 Canyon Falls' onsite Argyle Middle School looking ahead to new school year
Canyon Falls is proud to be part of two highly regarded school districts, Argyle ISD and Northwest ISD.
Our first completed onsite school is Argyle Middle School, which begins its third year in August.
Principal Scott Gibson said the school is growing at a rate of about 10 percent a year, and will start the 2018-2019 school year with approximately 780 students in grades 6-8.
Asked what he is most proud of as Argyle Middle begins its third year, Mr. Gibson said it is the school's "culture of excellence."
"We have a combination of great teachers, involved parents, and students who expect to do well," he said. "We're also very proud of our winning football and ULI teams, but the culture of excellence is what really sets Argyle Middle apart, in my opinion. It makes us a place where all students can thrive and prepare for a lifetime of achievement."
Argyle Middle's Niche rating reflects its commitment to excellence, with an overall A grade, and additional A grades for Academics and Teachers.
Mr. Gibson said he is also very proud of the way Argyle Middle seamlessly meshed the cultures of two different schools when it opened in Canyon Falls in 2016. The new school combined grades 6-8 under roof for the first time in the district.
New for the 2018-19 school year, Argyle Middle will add an eighth period, to provide professional learning and collaboration time for teachers. This will help teachers deliver the best possible overall learning experience for students, Mr. Gibson said.
The school will also add a new five-section environmental science class, utilizing its greenhouse and garden to provide students with hands-on learning experiences.
Mr. Gibson said the building housing Argyle Middle will soon be expanded and will become a high school in 2021, when the middle school will relocate to the current high school building. The expansions are part of a $166 million bond package approved by district voters in 2017. The bond package also included funding for a future onsite elementary school to be located on a site donated by Canyon Falls.
Learn more about the highly regarded schools serving Canyon Falls.