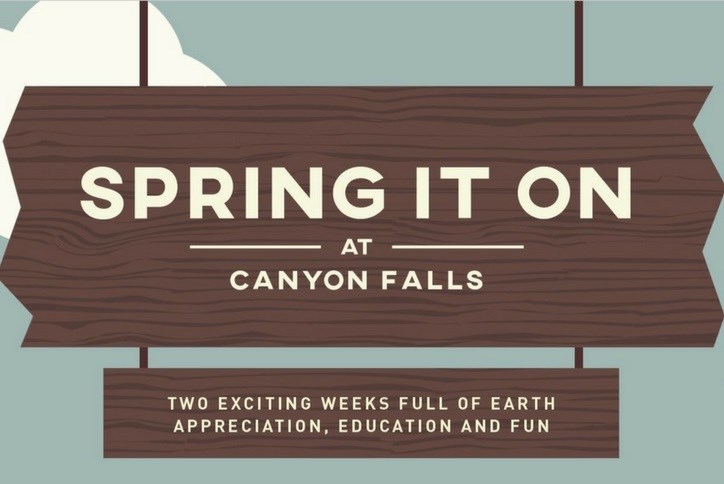 Earth "day"? At Canyon Falls, we're celebrating nature for two weeks
On Earth Day, April 22, Canyon Falls is kicking off a two-week earth series of fun and educational activities for appreciating earth. 
The series kicks off on Sunday, April 22, with a trail mix bar at the Welcome Center and paper recycling truck at the Hay Barn, from 2-4 p.m.
During both weeks, from April 22 through May 5, Canyon Falls invites residents and visitors to enjoy scavenger hunts and land art along its miles of trails. Scavenger hunt activity sheets are available at the Canyon Falls Club, and nature lovers are encouraged to post their favorite photos on social media, using the hashtag #CFExplorers. 
From April 23-29, it's Environmental Education Week at Canyon Falls. Residents and visitors can stop by the Canyon Falls Club for free water bottles, koozies and trail mix treats. 
On April 27, Canyon Falls celebrates Arbor Day, with residents gathering to plant a Friendship Tree, donated by Woodlake Outdoor, near the splash pad at 4 p.m. 
On April 28, the Community Yard Sale will inspire residents to finish their spring cleaning, with a donation truck on site from 2-4 p.m.
On April 29, it's Family Fishing Day at one of the catch-and-release ponds in Canyon Falls. Residents can bring their own fishing poles from 2-4 p.m., and Canyon Falls will provide the bait, while supplies last.
Canyon Falls celebrates National Wildflower Week during the second week of this series, from April 30 through May 5. Wildflower seed packets will be available all week at the Canyon Falls Club, with wildflower-themed cookies as a special treat on May 4.
On May 5, Canyon Falls will celebrate its annual Ladybug Release with crafts, music, treats, and of course, releasing thousands of beneficial ladybugs. The fun takes place at the Canyon Falls Club, starting at 10 a.m.
These activities are a perfect way to celebrate nature at Canyon Falls, which devotes more than 250 acres to parks, trails, recreational amenities and natural open spaces.