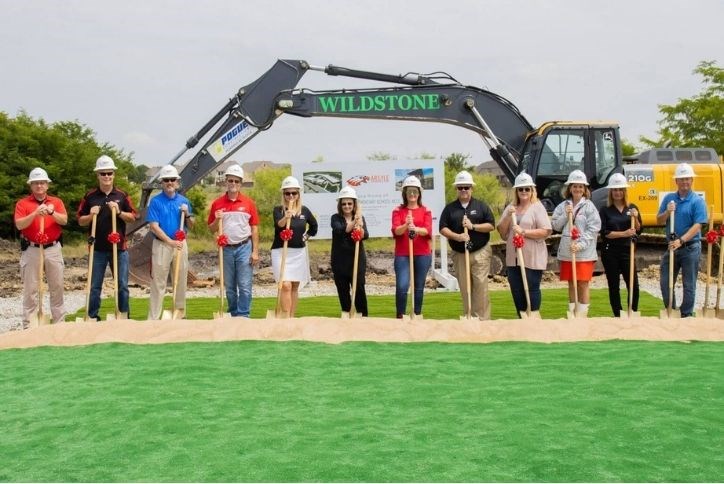 Argyle ISD announces name for new Canyon Falls elementary school
Argyle ISD has announced the name of its new elementary school in Canyon Falls, now under construction and opening in August 2022.
Argyle South Elementary will be the name for the new school, located at 118800 Denton Creek Blvd. The district recently released a new zoning map for its three elementary schools, indicating that most students living south of FM 407 will attend this new school, including residents of Canyon Falls.
Designed for students in grades Pre-K through 5th, Argyle South Elementary has an updated design based on the architecture of Argyle West Elementary, which opened in 2019.
This two-story school is designed to be very welcoming to young students, combining natural materials such as stone and wood on the exterior, with high ceilings, bright primary colors and lots of natural light for the interior.
The school design has several flexible levels for collaborative learning, with some walls covered completely by whiteboards. Located at the heart of the school, the circle-shaped library is another highlight, with plenty of windows looking out to a courtyard. The library also has collaborative learning areas and a Makerspace area for young inventors.
Technology is another standout for Argyle ISD, with all students having access to Chromebooks and all classrooms equipped with interactive TV monitors. STEM (Science, Technology, Engineering and Math) subjects are another focus. Other features include a gymnasium and dedicated rooms for music and art.
More new schools and improvements could be coming soon to Argyle ISD, now that the district has announced a $268 million bond election for May 2022. This bond package, includes propositions for a new 9,000-seat football stadium and a new indoor activity center at Argyle High School, located in Canyon Falls.
Ranked as the No. 1 Best School District in Denton County, Argyle ISD is one of two highly regarded school districts serving Canyon Falls. Part of our community is also served by Northwest ISD, another outstanding school district.
Learn more about the highly rated public and private schools serving Canyon Falls.
Photo courtesy of Argyle ISD.