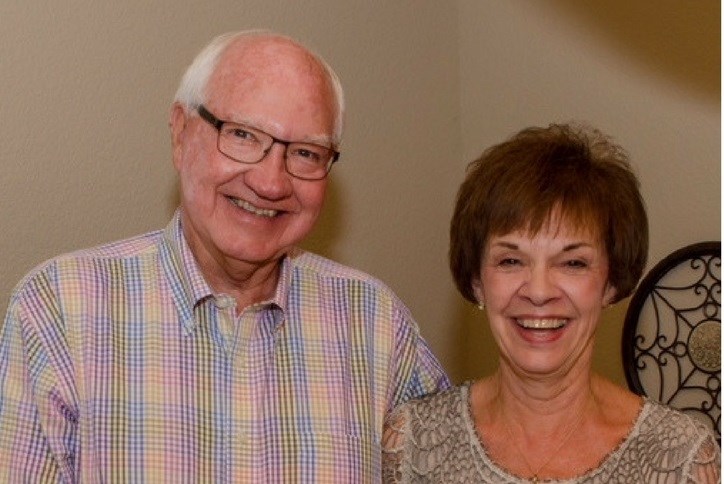 Meet the Residents: Married for 52 years, the Harrisons begin exciting new chapter of life at Canyon Falls
Meet Larry and Sandy Harrison, who recently moved to Canyon Falls to enjoy the ease of living in a new one-story home. As longtime area residents, they have lots of tips to share, including where to find the "world's biggest casino" and where to enjoy tasty Italian cuisine.
Q. Prior to moving to Canyon Falls, where did you live?
A. We lived in Grapevine before we moved to Canyon Falls. In 52 years of marriage, we've also lived in Fort Worth, Arlington, Southlake and Hurst. We also spent five years in Amarillo.
Q. How did you hear about Canyon Falls?
A. We found the community through Pulte's website, and we're very glad we did.
Q. Why did you choose Canyon Falls for your new home?
A. We were attracted to Canyon Falls because of the price and availability of new homes in our price range. Since our one son is grown, school districts were not the biggest factor, but we did want to live in an attractive school district for resale purposes.
Q. Which builder did you select?
A. We selected Pulte because of the value for the price paid, and because of the availability. We had just sold our two-story townhouse in Grapevine, and we were looking for a one-story home.
Q. What is your favorite feature in your new home?
A. We love the openness of the floor plan, especially the way the kitchen, family room and dining area flow together.
Q. Tell us about your family.
A. Larry was born in Fort Worth. Sandy was born in Buffalo, New York, but moved to Fort Worth when she was 5 years old. We met in high school and started dating in our senior year. Larry graduated from the University of Texas at Arlington, where Sandy also attended. Larry retired from Bell Helicopter after 35 years of service. We have one son and daughter-in-law, and two granddaughters, all living in Edmond, Oklahoma. Our son and daughter-in-law are graduates of Oklahoma University. Our oldest granddaughter graduated from OU last year, and our youngest granddaughter is a freshman there.
Q. What's your favorite local restaurant?
A. One of our favorite local restaurants is the Italian Bistro in nearby Roanoke. Known as the Unique Dining Capital of Texas, Roanoke offers many choices.
Q. What's your favorite nearby shopping destination?
A. The Tom Thumb in Trophy Club is convenient and is an excellent place to shop for groceries. There are many great shopping attractions in Highland Village, and Southlake Town Center is only 20 minutes away.
Q. What's your favorite nearby entertainment venue?
A. It would have to be WinStar World Casino & Resort, less than an hour away from Canyon Falls. We've been loyal patrons for more than 20 years and we've seen it grow into the world's biggest casino. We also love to play bridge.