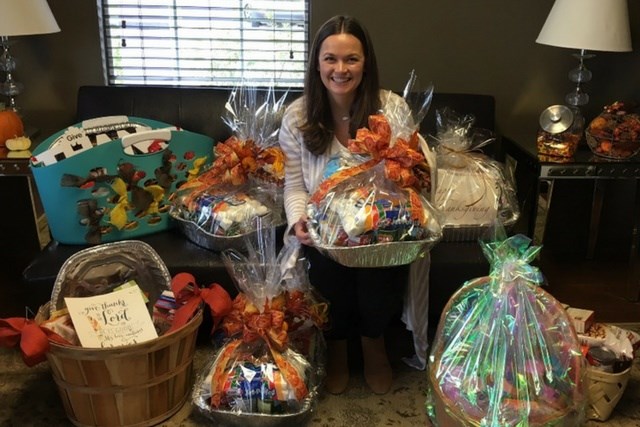 A Year of Giving at Canyon Falls
As we embark on the 2016 holiday season, and the year comes to a close, it's the perfect time to reflect on what we are thankful for and how, together, we affected our local community by giving back.
To make the greatest impact, Canyon Falls focused on one charitable organization this year, which is the Children's Advocacy Center for Denton County (CACDC). A non-profit organization committed to a multidisciplinary response to child sexual abuse, CACDC, coordinates with law enforcement, child protective services, medical and mental health professionals to help children and their non-offending family members seek justice and find healing. The center offers free training and community outreach programs designed to help the public recognize and react responsibly to child abuse.
We held donation drives throughout the year to help families in the CACDC program. We wanted to once again thank you for your generosity and kindness…and to show how you've positively impacted families in need, in our community:
In December 2015, Canyon Falls residents donated more than 100 hats, gloves, and scarves to the CACDC! The executive director, Dan Leal, and Stephanie Enslow, family services coordinator, wrote a thank you letter to all who participated that said, "On behalf of the Board of Directors, staff and clients of CACDC, I am writing to thank you for being a part of our mission to help families heal by contributing to the Christmas Assistance Program. Your Christmas donation of hats and gloves helped us to provide Christmas presents and clothes for 68 families and 196 children!  The families receiving assistance are incredibly grateful and overjoyed by their gifts." A small item can make a huge difference in the lives of adults and children in need.
Canyon Falls residents once again helped in July and August of this year with a school supply drive. Donations were dropped off at the Welcome Center and our Back to School Bash. We had tons of fun at the Bash and you helped to ensure many children had the proper supplies to start the new school year off on the right foot!
During our Thanksgiving basket drive this month, we collected 15 baskets to deliver to the CACDC! The baskets included items for a Thanksgiving meal, as well as a gift card to a local grocery store to purchase a turkey. Your generosity helped 15 local area families celebrate Thanksgiving who otherwise would have been unable to do so.
This December, we're once again collecting hats, gloves, and scarves – all sizes and ages are needed – for the CACDC. New, unwrapped items should be brought to the welcome center by 5 p.m. on December 15. We would love to donate even more this year to help spread the warmth and love to those in our community who are in need!
At Canyon Falls, we are thankful for each one of you, our residents, who feel strongly about giving back to the community in which we live, work, and play. Thank you for your charity and kindness shown throughout the year by giving back to the community we all love. We look forward to a happy, healthy 2017, and are excited for the promise it holds!