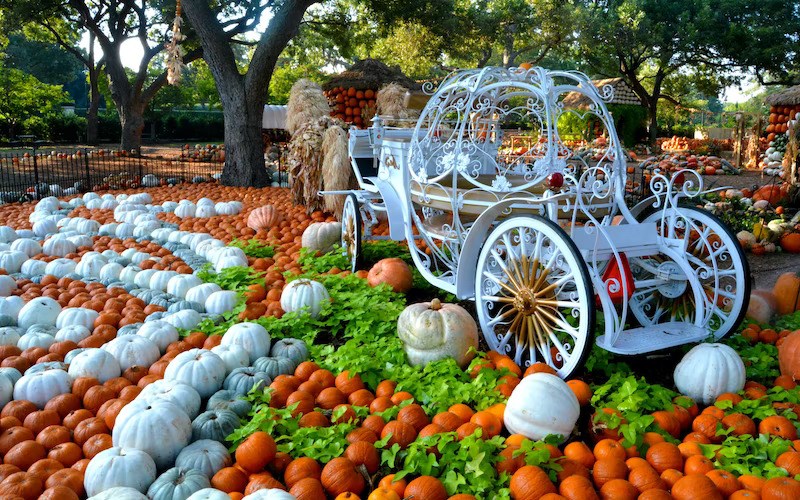 Fall events to enjoy near Canyon Falls in Flower Mound, Northlake, Argyle and other North Texas cities
Fall events in North Texas are plentiful as pumpkins, especially in the area surrounding Canyon Falls, offering new homes in Flower Mound, Northlake and Argyle.
While we have our own active calendar of social events for residents here at Canyon Falls, it never hurts to have more fun nearby, and the following events are open to the public. Most are free, while some require tickets; please check the links provided for details. 
Second Saturday Bird Walks
Every second Saturday, the Heard Natural Science Museum in McKinney hosts Bird Walks beginning at 8:00 a.m. and lasting approximately 90 minutes. Fun for the whole family, these expert-guided walks help beginning and intermediate birders learn spotting and identification techniques amid prairie, woodland and wetland habitats in the museum's 289-acre nature conservancy. More than 220 bird species have been observed at the Heard, including Painted Buntings, Meadowlarks and hawks. Falls dates coming up are Sept. 10, Oct. 8 and Nov. 12.
Autumn at the Arboretum
"One of America's best pumpkin festivals" is how Fodor's Travel describes Autumn at the Arboretum, a 17-year tradition at the Dallas Arboretum and Botanical Garden that runs from Sept. 18 through Oct. 31. This year's theme, "A Fall Fairy Tale," will feature more than 100,000 pumpkins, gourds and squashes from Floydada, the pumpkin capital of Texas, with highlights including Cinderella's Carriage, a Pumpkin Village of themed houses, and a maze for younger visitors. There will also be reinterpretations of classic fairy tales like Jack & The Beanstalk, The Three Little Pigs and One Thousand and One Nights.
Celebrate Roanoke
On Oct. 8, Celebrate Roanoke turns the clock back to the Roanoke of yesteryear, with hilarious games and activities honoring the founding families. Now in its 25th year, Celebrate Roanoke will have scrumptious foods and a multitude of unique vendors. Highlights include armadillo races, dog tricks and agility demos, an old-fashioned photo booth, wagon and train rides, cow patty bingo and sack races. There'll also be live performances by musicians and community groups. The fun lasts all day, from noon to 9 p.m.
Oktoberfest in Southlake
Southlake celebrates Oktoberfest on the weekend of October 14-16, bringing a taste of Bavaria to North Texas for 21 years and counting. Southlake's beautiful Town Square will be transformed into an Alpine wonderland with traditional German food and beer, live entertainment, and handcrafted arts and crafts for sale. The Family Fun Zone will offer plenty of activities for kids. There'll be a costume contest along with the popular Weiner Dog Race. Over 100,000 people are expected for this free event. Go join the fun!
Halloween in Flower Mound
Flower Mound has four exciting Halloween events planned this fall, starting with the Fangtacular Family Campout on Saturday, Oct. 15 and Sunday, Oct. 16. Families are invited to pitch Halloween-themed tents at Twin Coves Park and enjoy pumpkin patch activities, games and catered meals. There'll be prizes for the most creative tents. On Saturday, Oct. 22, Flower Mound presents the Glowing Pumpkin Plunge, a floating pumpkin patch at the Community Activity Center's indoor pool. On Thursday, Oct. 27, dress your dog up in their most fang-tastic Halloween costume for the Woof-O-Ween costume contest at the Hound Mound Dog Park. On Friday, Oct. 28, the Halloween Egg Haunt offers a new twist on trick-or-treating, with costumes encouraged.
Grapevine's Butterfly Flutterby
Grapevine has two fun fall events you can enjoy on Saturday, Oct. 15. One is the Butterfly Flutterby, which celebrates Monarch butterflies as they pass through Grapevine on their migration from Canada to Mexico. This event begins with a gossamer costume parade for kids and pets, followed by costume and art contests, special exhibits and live butterfly release.
Nash Farm Fall Round Up
Grapevine's second family-friendly event on Saturday, Oct. 15 is the Nash Farm Fall Round Up, a family-friendly event that takes you back in time with campfire cooking demos and historic demonstrations of rope making, carpentry, food preservation and other activities. There'll also be wagon rides, games, a bean and cornbread lunch, and more. Nash Farm also offers many other activities throughout the year – check out their event calendar.
Westlake Vintage Classic Car Show
If you love chrome and tail fins, then this event on Saturday, Oct. 15 is for you. Held at the Solana Club, the 10th Annual Westlake Vintage Classic Car Show will benefit the Westlake Historical Preservation Society. On display will be original and restored cars, trucks and pickups from 1900 to 1969.
Halloween at the Heard
Ever wanted to trick-or-treat among the dinosaurs? On October 22, the Heard Natural Science Museum will host Collin County's most unique family-friendly Halloween event, Halloween at the Heard. This thrilling event will feature trick-or-treating amid its hit Dinosaurs Live! exhibit, featuring a trail of life-size animatronic dinosaurs, including a 46-foot T-Rex and 10 of his friends. There'll also be a family-friendly movie on the outdoor amphitheater stage. The Heard is one of our regular nature event partners at Canyon Falls, and we highly recommend visiting this amazing museum in nearby McKinney.
Diwalifest 2022
Diwalifest 2022 returns to Southlake Town Square for another incredible cultural celebration on Saturday, Oct. 22, beginning at 3 p.m. and going on 'til midnight. Planned by the Southlake Foundation, the festival will include children's activities, food vendors, cultural performances, handcrafts, and much more. The mission of Diwalifest is to celebrate Indian culture and traditions by featuring traditional Indian dance, entertainment, and food from various parts of India. The Diwali celebration is akin to Christmas and it represents the triumph of good over evil, light over darkness, knowledge over ignorance, according to the Southlake Foundation.
Photo courtesy of Dallas Arboretum