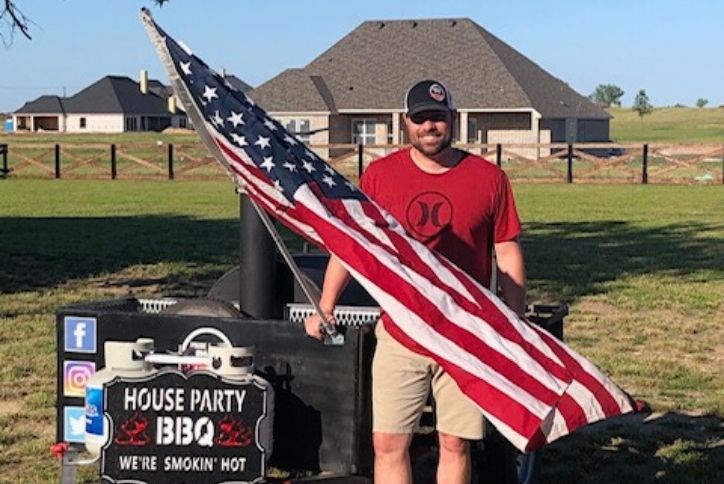 "Keep it simple" and other BBQ tips from Canyon Falls' award-winning pitmaster
"Barbecue is TLC," says award-winning pitmaster David House, who recently moved to Canyon Falls with his family.
David has barbecued most of his life, learning priceless skills such as patience at the side of his father, David Sr.
For the past five years, this father-and-son team has become an award-winning presence on the Texas competitive BBQ circuit, traveling throughout the state to win a growing number of first-prize trophies and top 10 finishes.
David Jr. kicked his BBQ skills up several notches when he attended culinary school a few years ago. At the time, he was a sales representative for a restaurant equipment company, and his employer wanted him to train to replace the company chef, who was retiring.
"Going to culinary school really helped me elevate not only my BBQ game, and it gave me a wide set of skills and a depth of knowledge about all kinds of food," David says.
Today, David works for an air conditioning and heating company, and he has a thriving side gig with House Party BBQ, a full-service catering company that also offers crawfish boils, fried turkeys and a wide variety of other menu options.  
Because we can enjoy cooking and eating outside much of the year in Texas, we asked David to share some of his top BBQ tips, without giving up any of his secrets. Here is what he so generously shared with us:
Keep it simple. "Real Texas BBQ is all about taking pride in the meat and letting it speak for itself," David says. "Texas style is just using salt, pepper and garlic salt, not slathering it with heavy or vinegary sauces."
Take it slow. You can't rush BBQ. Just like a marriage or relationship, it needs to be tended and nurtured. David never lets his smoker get above 235 degrees.
The truth about fat. One of the biggest misconceptions about BBQ is that fat will melt into a piece of brisket. Believing this, many cooks leave a thick layer of fat on the meat and cook it fat side up. Actually, David says, the fat will simply run off the meat and cause flames to flare up, which can burn the meat and make it bitter. The best solution is to trim that fat layer to about ¼ of an inch, then smoke the meat with the fat layer on the bottom. That will help to help the smoke penetrate the meat and protect it from drying out.
Start early. David starts prepping his meat 72 hours before he starts to cook it. He's a strong advocate of injection marinades and brining, whether you buy them or make them from recipes you can find online. "I truly believe in keeping it as simple as possible, but you're not less of a cook if you use a marinade," he says.
Know your butcher. David always buys meat from a butcher as opposed to a grocery store. "Get to know a good butcher," he says. "They usually get their meat from good, local farms that they know. At a store, don't know where a vacuum-packed piece of meat came from."
Know your smoker. There's no substitute for getting to know your smoker, David says. That means learning where the hot and cold spots are, and knowing what spots offer the best smoke penetration. "I smoke up to 20 pounds a week, so I can a lot of experience, but anyone can learn their smoker through some practice and careful observation," he says.

David recommends for anyone who loves BBQ to attend a championship cookoff, to taste a variety of meats, styles and flavors in a fun, family-friendly atmosphere. Many competitions take place in North Texas, and you can find calendars from the Lone Star BBQ Society and the International BBQ Cookers Association.
You can find information on House Party Barbecue on Facebook and @housepartybbq on Instagram.