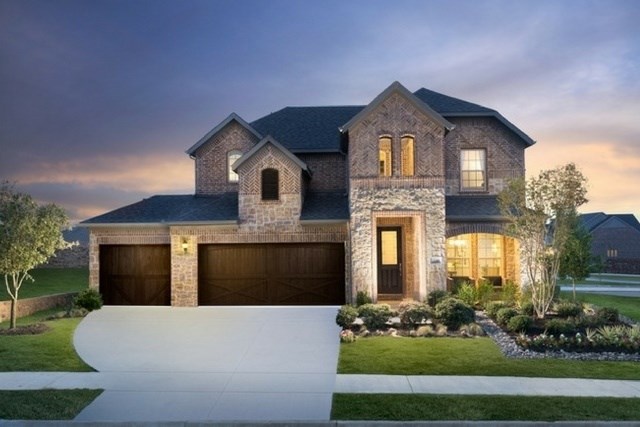 From the $300,000s 5 leading builders offer incredible array of choices in popular price range
New homes priced from the $300,000s are one of the most popular offerings in Canyon Falls, and this amenity-filled community offers incredible variety, with five leading homebuilders and homesites in scenic neighborhoods near many recreational opportunities.
We recently visited these builders to find out what's new and trending with new homes priced from the $300,000s in Canyon Falls. Here are the highlights.
Ashton Woods
Ashton Woods touts its new centrally located Design Center as a big benefit for homebuyers, who are invited to personalize their new homes in Canyon Falls with thousands of choices in flooring, lighting fixtures, countertop, sinks and other options.
This builder's top-selling plans in Canyon Falls include its model, the four-bedroom Bandera. This home has an island kitchen, a formal dining room and upstairs gameroom. A covered patio is also included.
The painted and scraped brick walls displayed in the model's two-story family room is just one of the popular design options available with this plan.
Another strong-selling plan is the one-story Pecos, featuring a family room with a corner fireplace, and an island kitchen and breakfast room opening to a covered patio. This three-bedroom home has a formal dining room, with options for a fourth bedroom and extended patio.
Sales consultant Jennifer Gannoe said buyers love the amenities at Canyon Falls, and are very excited about the new Canyon Falls Club community center.
Ashton Woods builds in the Persimmon neighborhood, located in Argyle ISD.
Coventry
Coventry sales consultant David Barnhisel is enthusiastic about describing what makes the builder's new homes in Persimmon so appealing to homebuyers.
"Coventry offers the ability to customize from foundation to roof, so homebuyers don't have to compromise," he said. "Our homes are built for the way that people want to live in their new home."
He said Coventry considers many thoughtful details that most homeowners might not think of. For example, instead of bedrooms sharing walls with living areas, the builder puts closets in between, to help minimize any noise that might detract from sleep or relaxation.
Coventry's fully furnished model homes in Canyon Falls are showcases of its vision for beautiful design as well as livability.
The Design 3097 model home has four bedrooms, including a downstairs guest suite. This spacious home has a study, formal dining room, a gameroom and media room. The two-story family room is open to the island kitchen, and the entire family area overlooks a covered patio. 
Meritage
Meritage sales consultant Rick Gardner says the builder's industry-leading energy efficiency package is a big selling point for homebuyers. Meritage sprays thick foam insulation over the entire frame of the home, including the attic and walls, to create a super-efficient and comfortable envelope.
"You can stand in the attic, even in summer, and the temperature is pretty much the same as the rest of the house," he says.
The foam insulation is just one part of an extensive energy efficiency package that also includes tankless water heaters, Energy Star appliances, CFL light bulbs, energy efficient windows and much more.
In Canyon Falls, top-selling plans include the Lantana, featured as a decorated model home. This four-bedroom home has a two-story family room, an upstairs gameroom, and a flex room that can be built as a living room, study or fifth bedroom.
He said homebuyers love the outdoorsy lifestyle offered in a community that devotes 300 acres to recreation.
"After five o'clock on any day, you can see the trails filled with joggers, walkers and strollers, as neighbors come out to enjoy the amenities," he said. "Along with the country feeling, the community is only 15 miles from DFW, a big benefit for many residents."
Meritage builds the Uplands, a name that is very fitting for this neighborhood, located on one of the highest points in Canyon Falls and offering great views amid scenic and varying topography.
Monterey
Step inside Monterey's stunning Rome model home in Canyon Falls, and it's easy to see why this builder is known for its bold architectural designs and fine interior finishes. The Rome begins with a spiral staircase in a breathtaking two-story foyer. Dramatic ceiling heights continue into the family room and casual dining area, which open to a covered outdoor living area. The central kitchen has a huge table island.
For all of its flair, the Rome is also practical and extremely energy efficient, as are all Monterey plans. The private owner's entry from the three-car garage includes a thoughtful drop zone with built-in storage. A pocket office is located between the casual dining room and the private downstairs guest suite. The luxurious owner's suite is also down, with two large bedrooms and a huge gameroom upstairs.
A butler's pantry and a large walk-in pantry are located between the kitchen and formal dining room.
Among one-story floor plans, the Sydney is a top-seller, offering four bedrooms, a study and a three-car garage. Ideal for entertaining, the Sydney combines the island kitchen, family room and casual dining space into one open and flowing area. Other highlights include a media room and outdoor living area.
Monterey homebuyers love the spacious 70- and 80-foot-wide homesites in Canyon Falls' Meridian neighborhood. This neighborhood is within walking distance of the Canyon Falls Club, and some homesites are oversized and offer greenbelt views.
Pulte
Pulte's plans in Parkdale have been literally designed with the help of homebuyers from the Dallas-Fort Worth area and throughout the nation.
Sales consultant Michael Anderson said Pulte has built temporary model homes across the country and has invited home shopper to share what they like and don't like about the designs.
"Pulte has gathered over 1,000 hours of consumer input since we started this program," Anderson said. "In fact, one of our recent homebuyers participated in the research in the Dallas area. They bought a new Pulte home in Canyon Falls because we listened and designed our new homes around what they said they wanted."
Today's homebuyers want open concept plans with large gourmet kitchens, outdoor living areas, and no wasted space, Anderson said.
"These features have become Pulte signatures," Anderson said.
Pulte's bestselling plans in Parkdale include the Winsford, featuring a central island kitchen open to the great room and covered patio. Other highlights include a three-car garage, flex room, gameroom and media room.
Parkdale offers scenic topography, Anderson said. "There's a very nice rise and fall to the land, which creates a beautiful street scene and a feeling of openness and spaciousness. It's a very nice and quiet country feeling," he said.