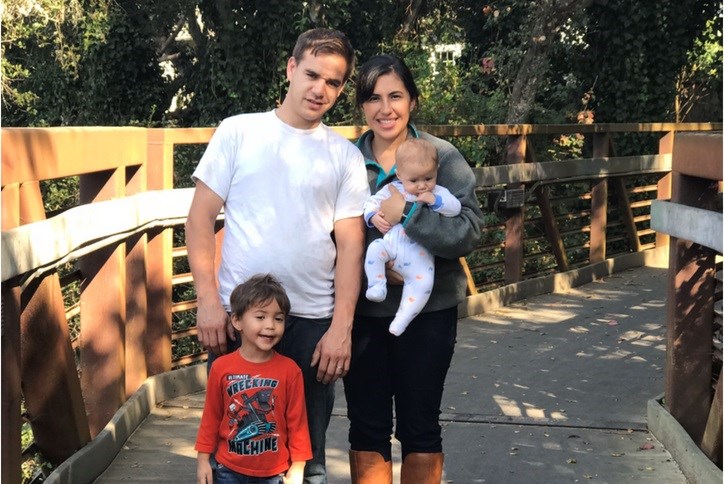 Careful research – and falling in love – led the Contreras family to Canyon Falls
Meet the Contreras family, now happily settled in Canyon Falls after moving here a couple of years ago. In this interview, Sabrina Contreras reflects on the family's home search and what led them to choose Canyon Falls – a decision they've only come to appreciate more.
Q. Prior to moving to Canyon Falls, where were you living?
A. We moved from Santa Cruz, California. We started our home search in early 2015.
Q. How did you hear about Canyon Falls?
A. When we decided to move to Texas, we did a lot of research about cities with great schools, that were safe, and located in a convenient area to commute to work. Flower Mound fit the bill, and it's consistently rated as one of the top places to live in Texas. I found their website very helpful. Once we settled on Flower Mound, our Realtor suggested Canyon Falls as one of two communities to explore.
Q. Why did you choose Canyon Falls?
A. After comparing Canyon Falls and the other community our Realtor suggested, we decided that the beauty and convenience of Canyon Falls could not be beat. We loved the layout of the community. It's not simply a grid of homes – there's a beautiful flow to the community. We love how the little villages create a sense of belonging inside the larger community. We also did a lot of research pertaining to the future of the development. We asked a lot of questions and ultimately decided that Canyon Falls was the best fit for our family.
Q. Did the local schools factor in to your decision to move to Canyon Falls?
A. Absolutely. We chose to build in Argyle ISD area of Canyon Falls. While both school districts are exceptional, we liked that the Argyle ISD has proposed sites for an elementary school and middle school in the community, and they are within walking distance from our home. It is also convenient to have Liberty Christian School nearby. On Saturdays, one of our sons plays tee-ball there.
Q. What builder did you select?
A. We chose a quick move-in home from Ashton Woods. It all came down to the layout, location, and price of the home.
Q. What is your favorite feature in your home?
A. We love our vaulted ceilings in the family and the fireplace, where the stone goes up two stories. 
However, our absolute favorite feature of our home is our front porch, which overlooks the pond. When it cools off a bit in the summer evenings, it's our spot to unwind.
Q. Tell us about your family.
A. When we bought our home, my husband and I were in our late 20s, with a one-year-old son. We were brand-new to Texas and just starting out. Moving from the mountains in California to Texas was quite a change, but having the trails in Canyon Falls certainly helped with the transition. We love seeing the beautiful wildlife. Our family loves taking walks at sunset after dinner. My husband ran track and cross-county in high school, and now he frequently runs throughout the community.
Q. What do you love most about Canyon Falls?
A. We love our neighbors and the friends we have made throughout the community. In the evenings, you often see kids playing with one another and the parents chatting. Canyon Falls has a large mix of people from all walks of life. We love the diversity within the community. Our kids' favorite feature is the playground at the Canyon Falls Club. We also love how our neighbors come together to work with the developer, Newland Communities, to make Canyon Falls an even better place to live. A home is a huge investment, so it's wonderful to see our neighbors helping to protect each other's investment.
Q. What's your favorite local restaurant?
A. My husband works for In-N-Out Burger, so we have our bias on burger joints. However, one of our favorite places to eat is Babe's Chicken Dinner House in Roanoke.
Q. What's your favorite local shopping destination?
A. There are some great shopping centers nearby, but with a young family, Amazon Prime is our favorite. Our home is located within their free two-hour delivery area – it's amazingly convenient.
Q. What's your favorite nearby entertainment venue?
A. Our family loves to go camping at Ray Roberts Lake State Park, approximately 30 minutes north of Canyon Falls. Our date night is usually at Moviehouse & Eatery in Flower Mound.
Explore our Homefinder to find your new home in Canyon Falls, and join happy residents like the Contreras family.