American Airlines families land in Canyon Falls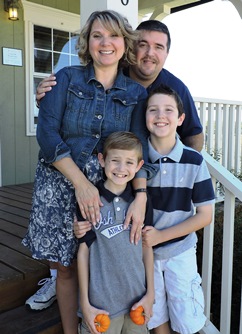 Employees of the nation's largest airline know a thing or two about routes and landings. That's why many American Airlines employees, part of a wave of transferees from Pittsburgh to the Dallas-Fort Worth area, are discovering the convenient route from their new workplace to Canyon Falls – and deciding to land there for good.
About 300 U.S. Airways employees are relocating to American's new international operations center in Fort Worth, as American finalizes its merger with the former Pittsburgh-based U.S. Airways. Overall, more than 1,600 employees work at American's new $88 million "nerve center," which oversees more than 1 million flights annually.
Schools were the top concern for the Schwalm family, which includes Nik, 10, and Jake, 8.
"We did a lot of scouting and shopping around, and Canyon Falls checked all the boxes for us, especially when it came to schools – our most important priority," said dad Matt Schwalm, a dispatcher for American.
Matt and his wife Dawn, who worked in education in Pittsburgh, liked the fact that Canyon Falls is served by two highly rated school districts, Argyle ISD and Northwest ISD.
"The commute, which comes in under 30 minutes, is also a big plus, along with the amenities and nearby shopping," said Matt. "We're very happy to be here, and we're really looking forward to warmer weather."
Matt said they also like living near one of the world's largest airports, Dallas-Fort Worth International, which makes it very convenient to visit family members living in Phoenix and Chicago.
The Schwalms moved into their new Pulte home in late October. "We wanted a one-story home with four bedrooms – a bedroom for everybody plus a guest room," Matt said. "We also wanted a home with two living areas, so the kids can have their own play area. Pulte's Cranbook plan fit the bill perfectly."
The 30-minute drive to Canyon Falls from the new American operations center also sold the Greene family on Canyon Falls.
"We also love the hills and the views. Canyon Falls is scenic, and it reminded us of our old home in Beaver, Pennsylvania, near Pittsburgh," said Harold Greene.
Harold's wife, Lynne, also works for American as a senior contracts manager. Arriving months ahead of Harold, Lynne relocated to work in the new facility last year, so they had plenty of time to tour potential new homes in the area with their Realtor.
"We looked all over, and we chose Canyon Falls because we really loved the way the community is laid out," Harold said. "The parks, trails and open space really give you a feeling of being out in the country, but it only takes us 30 minutes or less to get to work. It makes us feel like we're enjoying the best of both worlds."
On the cusp of being empty nesters (their 24-year-old son is living with them as he starts college at nearby North Texas State), the Greenes found the perfect plan in Ashton Woods' one-story Pecos.
"It was the perfect size for us, and we really loved the openness and high ceilings. We also liked that we had the option to build out one of the bedrooms as a study, which we did," said Harold.
The Greenes already count a number of fellow American employees as neighbors, and that number is increasing as the airline settles into its new state-of-the-art facility, officially called the Robert W. Baker Integrated Operations Center.
Covering the equivalent of 2.5 football fields, the center is where American employees plan, operate and dispatch more than 1 million flights a year. The second floor has ceilings up to 22 feet high, with a raised command center overlooking the operations floor and scores of LED monitors displaying flight information.
Keeping the world's largest airline running smoothly is hard work, but now a growing number of American employees now have a nearby and relaxing place to go home to at the end of the day – Canyon Falls.
Recent Posts
---
Tags
---
Archive