Events
April 22 - May 04, 2019
Spring it On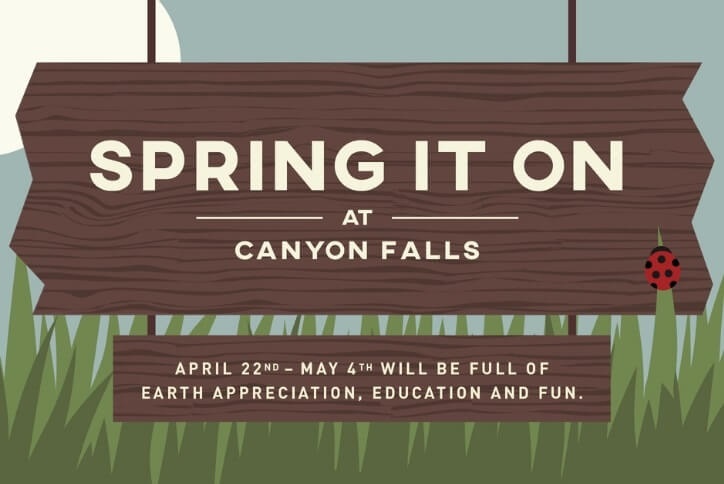 Canyon Falls is celebrating springtime and our beautiful natural surroundings with our Spring It On! series of events, from April 22 through May 4. Residents and guests are invited to all of these free activities.
The fun kicks off on Earth Day, April 22, with free water bottles, trail mix and koozies at the Canyon Falls Club. These giveaways will be offered all week long, through April 26, in celebration of National Environmental Education Week. Here's the rest of the fun lineup for Spring It On!
Arbor Day, April 26. Enjoy healthy snacks and nature-themed crafts from 3-5 p.m. at the Canyon Falls Club.
Community Yard Sale, April 27. Find new treasures at our annual community-wide yard sale from 8:00 a.m. to 2:00 p.m. A donation truck will be on hand to collect gently used items for a local charity. No RSVP required.
Camp Fire Geo Catch, April 27. Experience the excitement of geocaching amid the beautiful parks and trails of Canyon Falls as we partner with Camp Fire Lone Star. No RSVP required.
Wildflower Week, April 28-May 4. Pick up a free packet of wildflower seeds all week at the Canyon Falls Club, as we celebrate the springtime glory of our beautiful area. No RSVP required.
Family Fishing Day, April 28. Join us at Blue Stem Pond from 2-4 p.m. for an afternoon of outdoor family fun. No RSVP required.
Yappy Hour, May 2. Bring your pooch to our Pooch Park to enjoy treats and drinks for dogs and people. The Pooch Park has separate fenced play areas for large and small breeds. No RSVP required.
Poppy Cookies, May 3. Our Wildflower Week celebration continues with beautifully decorated poppy cookies at the Canyon Falls Club. No RSVP required.
Lady Bug Release, May 4.  Our two-week long celebration of nature concludes with our Lady Bug Release from 10-12 noon at the Canyon Falls Club. One of our most popular annual events, it will delight kids with a butterfly stilt walker, a face painter, a DJ, and the release of thousands of these beautiful, beneficial insects. 

We look forward to seeing you!