Events
March 26, 2017
Canyon Falls is Bringing Music to the Community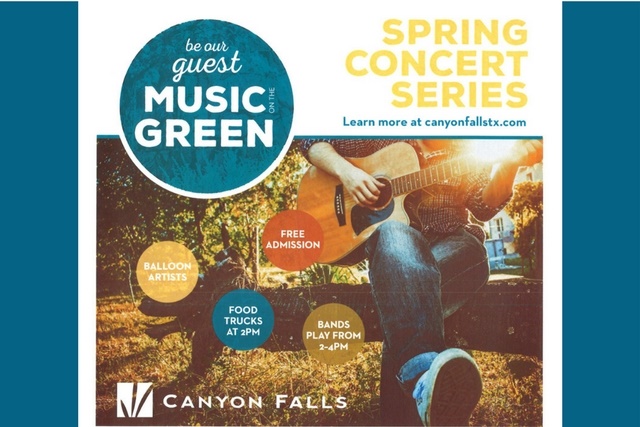 Looking for something fun to do on a Sunday afternoon? Join Canyon Falls for "Music on the Green"! The once-a-month music series will take place from 2-4 p.m. on the event lawn adjacent to the recently opened amenity center, Canyon Falls Club. The music series is sure to delight and entertain residents and guests, alike.
On Sunday, March 26, No Limits Band will play a variety of music to sing along with and dance to. Ruthie's food truck will be there serving up gourmet grilled cheese sandwiches that are available for purchase. Choose from a wide variety of cheeses, meats, veggies and sauces to create the greatest grilled cheese ever…yours!
We're going country on Sunday, April 23 with Alton Bridge. Our food truck pairing for the day will be Easy Slider, which features fresh, creative mini-burgers made with certified Angus beef and the freshest Farmer's Market produce.
Rock out with the Tony Rey Trio on Sunday, May 21 and cool off with some delicious Kona Ice! Top your premium shaved ice with fantastic flavors that are just right for our soon-to-arrive summer weather.
Blankets or outdoor chairs are allowed on the event lawn for comfortable seating. Please be considerate when placing chairs on the lawn so the view of others is not blocked. Guests are welcome to bring food and drinks. Alcohol is permitted. Animals are not allowed on the event lawn.  In the event of inclement weather, the concert will be moved under the covered patio. A determination of weather-altered plans will be made by noon on the day of the concert. Check Canyon Falls Facebook page for updates the day of the concert.
If you're not a resident, it's a great opportunity to tour our Canyon Falls Club and the 11 model homes throughout our development!